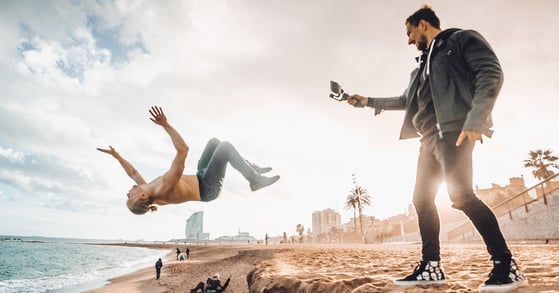 Wobbly smartphone videos could soon be a thing of the past if one Norwegian company gets their way. After raising $1.3m on Kickstarter, FlowMotion is off to a flier.
Smartphone cameras have evolved to the point that shooting near-professional quality video from the same device on which you make calls and check Twitter is now a reality. With such quality lenses inside the phones, the problem faced by semi-pro mobile filmmakers is now much more about the practicalities.
Aside from the increasing numbers of vloggers and video content just about everywhere we look, many of us are taking those family movies that little bit more seriously these days. Rather than simple family photo albums of yesteryear, plenty of parents have started sitting in their director's chair with smartphones and drones, and all the effects that are now available at the swipe of a screen.
Filmmakers using dedicated video cameras will typically use an expensive rig to keep things stable, but that's not an option for the mobile filmmaker on a clearly more limited budget who chooses a smartphone for its simplicity, weight, portability and of course cost.
While this may seem a trivial problem to some, a range of people from outdoor sports media companies to everyday vloggers earn their living thanks to video. That's an eager market for any company able to solve the problem.
A crowdfunding community success
FlowMotion Technologies is an Oslo-based startup which has been working on doing just that since creating their first handheld image stabilizer prototype in 2015. During that time, they've built a community of 7,000 testers and other interested people. Given that more than 5,000 people backed the project on Kickstarter, that was key to the company's success.
The company's FlowMotion ONE smartphone stabilizer reached its modest $30,000 goal within just one hour. The campaign reached an incredible $1,325,241, putting it into the top 150 Kickstarter projects of all-time and creating a massive buzz ahead of the full launch this April.
Read on for more on how it works...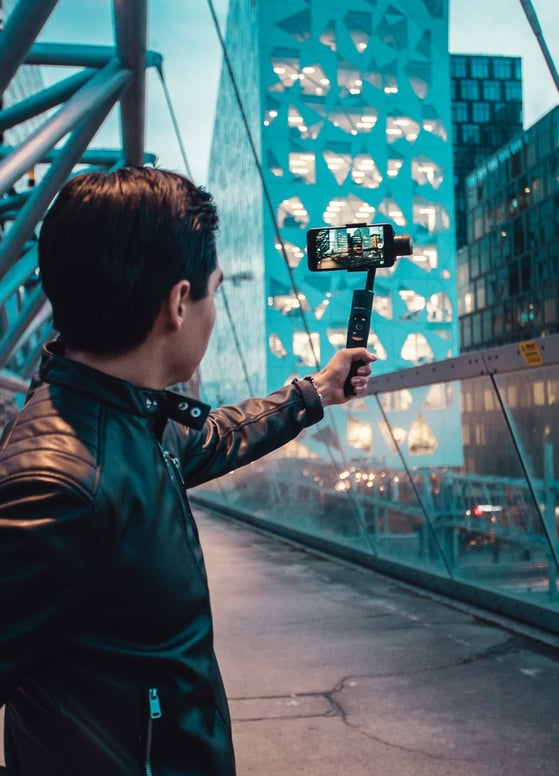 A smartphone image stabilizer
While on the face of it this product might seem a fun gimmick, there's actually some impressive sophistication inside. To achieve accurate motion sensing and coordinated motor drives to maintain a stable image is not trivial.
The company has trademarked its auto-follow technology, which allows the user to select the subject of interest on the screen. The device then follows the movement of the subject to create a smooth result.
Unlike other stabilizers, you can detach the grip and mount only the stabilizer itself to other camera mounts (without a 10" handle/grip) or to a smart extension pole, while still having a functional grip with the joystick and button controls.
Smart software powered by Bluetooth 5
The team chose Bluetooth 5.0 as a low-energy solution for connecting with its smartphone app, available for both iOS and Android. The app isn't essential, but you'll need to use it to access features such as motion timelapse, panorama photos, tracking, and gimbal settings.
> Read more: The Bluetooth 5 Trade-Off
Tech reviewers are praising the digital video editing suite, which supports the highest resolution available on the smartphone. If you can record in 4K UHD natively on your phone, then you can record in 4K in the FlowMotion app.
"Being able to set your video options directly from your phone can save you a ton of time in post processing", says a NerdTechy review, which goes on to say that while it can't compete with a four-figure professional rig, "it's as close as you'll get" without splashing the cash.
> Read more: Samsung supports Bluetooth 5
The FlowMotion ONE smartphone stabilizer is priced at a level to tempt the keen amateur. It will start shipping in April 2017 at a full retail price of $299, although those who pre-ordered on Kickstarter snagged a saving of at least 30%.
Photos: Fredrik Winge