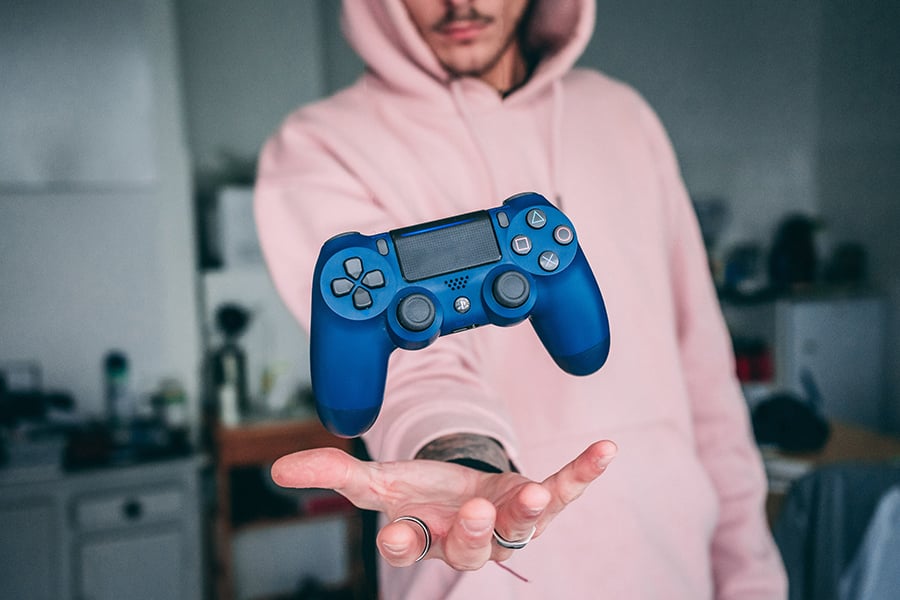 5G promises faster and more reliable connections for consumer internet. This could bring cloud gaming to smartphones in the very near future, shaking up the gaming industry.
Faster connectivity doesn't just mean improvements to streaming video or faster searches, there are huge implications for the gaming industry when 5G brings fast data transfer, low latency and wider coverage to the table.
There's already a shift going on
Today's gaming industry is split between dedicated gamers on high-performance consoles and high-specification PCs, and casual users with less performance expectation. The latter category has shifted away from dedicated consoles and onto lower performance PCs, handheld consoles and mobile devices.
The capability of mobile phones continues to increase. Everyone has one in their pocket, so the gaming industry is investing a lot into mobile phone gaming. Look no further than the upcoming launch of Apple Arcade for the way things are going.
From local gaming to cloud gaming
So far, mobile gaming is still about downloading an app to your smartphone or PC and playing the game locally. Even if the computational power of smartphone is growing fast, the user experience is still far from the one delivered by the consoles or PC which are optimized for gaming.
However, this is about to change, thanks to a radical shift in the architecture: instead of running the game locally on the PC, this can be run in the cloud, allocating as much computational power as needed. The concept of running high performance games in the cloud with video, audio and commands streamed between the cloud and the device is known as "cloud gaming".
It is another use-case that will be enabled by the jump of cellular into the next generation world of 5G.
Similar to the way LTE (4G) changed the music and video industry, allowing you to stream audio and video with high quality, 5G cellular technology will enable cloud gaming thanks to higher capacity bandwidth and lower latency.
The tech that will make cloud gaming happen
Many vendors were showing off 5G devices at the latest Mobile World Congress, showing that the market is getting ready for it. Indeed, even if 5G is somewhat of an umbrella term at the moment, it is finally taking shape.
In order to deliver on the promise of cloud gaming, enhanced mobile broadband and low latency communication will be needed.
Higher data rates (in excess of 1Gbps peak) are achieved by new features delivered by 5G New Radio (NR) access technology, including Massive MIMO beamforming, new bands at higher frequencies.
Flexibility will also be added to the network thanks to new technologies such as Software Defined Networking (SDN) and Network Functions Virtualizations (NFV), enabling important features such as Network slicing. This allows a slice of the network to be reserved for a specific service that may require dedicated resources.
Finally and most importantly, a distributed cloud is essential to allow the processing to take place as quickly as possible and as close as possible to the user. This will lower down the latency, which is essential for having high quality gaming experience
Even if 5G seems far away in time, the speed of deployment of 5G has increased dramatically over last year, with more than 123 cities in Europe considered 5G-ready.
Why this disruption matters
When smartphones are capable of delivering top quality games to a big screen TV with low latency, sales of dedicated pro gaming consoles are likely to be hit. But that's not necessarily true for accessories. While the smartphone's touch screen can be useful for certain games, any high action experiences really need an ergonomic gamepad to be playable.
The new console is the smartphone, and virtually every smartphone has Bluetooth low energy capability. The same low power wireless technology that is used so successfully for keyboards and mice all over the world can also be used to deliver control to the cloud gamer. With the smartphone gaming accessories market about to grow rapidly, what will be the key differentiator?
Once again, wireless connectivity between the gamepad and smartphone is key, in order to not destroy the whole user experience. Since the connectivity between the cloud and the smartphone will feature ultra-low latency thanks to 5G, the connectivity between smartphone and gamepad will also need to be optimised for latency, robustness and performance. Bluetooth 5 is really good candidate, but in some cases vendors may opt to use a proprietary 2.4GHz solution.
Beside gaming accessories, options to stream games onto larger screens is also an interesting area to watch. The simplest option is for sure to connect the smartphones to the TV, so that dedicated gamers will still be able to stream the action to their large screen, fully relying on their 5G smartphones. This comes with no extra cost to the user.
At the same time, TV box manufactures are not standing still, and new solutions are coming into the market. For example, Apple Arcade will take advantage of the proven Apple TV platform for throwing up the action on a big screen. On the contrary, the new Google Stadia platform also allows streaming to PC or to a TV via Chromecast Ultra. How these TV boxes will open up their interfaces for external third party accessories for gaming is still a big question, but for sure this is on the table for discussion.
Such is the disruption likely to face the likes of Microsoft and Sony, who own the two big consoles, there are rumours of the two giants joining forces to do battle with the likes of Apple and Google, while Microsoft is also working on its own cloud gaming platform xCloud.
It seems the game has only just begun.