Bluetooth Electronic Shelf Label standard heralds new retail dawn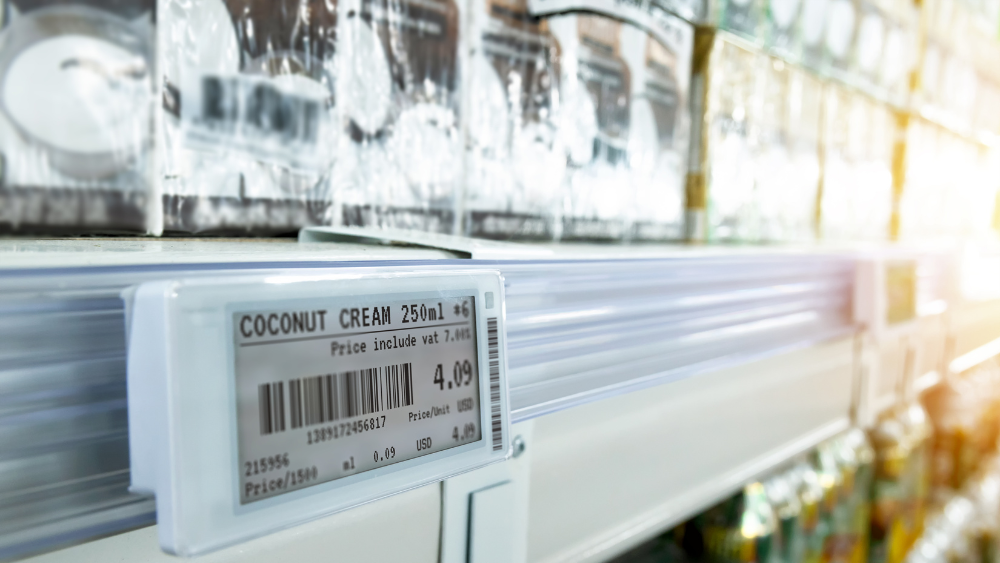 In April 1981, The Washington Post reported that the U.S. supermarket chain, Giant Food Inc., was about to stop marking prices on individual items in its stores in a bid to reduce operating costs. If there was no consumer backlash, the report predicted, the rest of the industry would follow, as it did when the company was the first food retailer to introduce barcode scanners at its checkouts, spurring the spread of that technology across the country.
Fast forward 40 years and individually priced items in supermarkets have long been consigned to history, with shelf pricing now the accepted norm. And it has, as Giant Food hoped, reduced operating costs for retailers that can stock as many as 50,000 different product lines. As recently as the 1990s, 7,000 product lines was considered average. Now technology is overhauling shelf labeling anew, and supermarkets will be the likely trailblazers once again.
The beginning of the end for paper labels
Electronic shelf labels (ESL) are connected, low-power 'e-paper' display devices that can replace traditional paper labels and can display text, numbers, icons, lines, barcodes and pictures. They enable retailers to automatically update individual shelf price labels from a central point across multiple stores and branches—or in certain geographic locations—at the touch of a button. Comprised of a Cloud platform, access points or gateways, and wirelessly connected shelf labels, pricing commands can be sent from a web-based dashboard to store-located gateways, from which point commands are relayed to the smart labels.
According to analyst ABI Research, by the end of last year, 788 million electronic shelf labels (ESL) had been installed globally. The number may seem significant, but with tens of billions of paper labels still on shelves, the technology has yet to make it mainstream, despite not really counting as a 'new' technology. Primitive versions using liquid crystal displays that could display a price but nothing else have been around for some 30 years. There are a number of reasons the technology has yet to hit the big time, including market fragmentation, cost of deployment, concerns over interoperability, security, and a fear of obsolescence. Now this could be about to change.
Earlier this year, the Bluetooth Special Interest Group (SIG), announced the release of the new wireless standard for the ESL market, with the goal of making Bluetooth the standard protocol for ESL. The scalable, low-power, secure ESL standard (consisting of ESL Profile and Service specifications) has been developed by a working group comprised of a leading ESL vendor and enabling technology suppliers, and standardizes the process for message transmission between access points and ESLs. To do so it leverages feature enhancements introduced in the Bluetooth Core Specification Version 5.4, including Periodic Advertising with Responses (PAwR) and Encrypted Advertising Data (EAD).
In general, PAwR and EAD are intended for one-to-many applications that involve a large number of devices (tags) receiving and transmitting small amounts of data from and to an access point, that accept longer latencies (e.g. 2 seconds) in exchange for extended battery life. Together, they enable connectionless, bidirectional, secure communication with thousands of very low-power end nodes in a star topology, essential in a retail ESL application where many thousands of labels could be required to cover all of the items stocked. For a technical deep dive on ESL, PAwR and EAD see What's new in Bluetooth v5.4: An overview.
Dynamic, efficient pricing operations
If the introduction of the standard has the intended effect on the retail industry and ESL becomes widespread, retailers are set to benefit in several ways. Updating paper price labels requires staff to change thousands of tags every week. It's not only a lot of labor to do very little, it also takes time and is prone to error, and inaccurate pricing on shelves even for a short time can cost grocery retailers profit. ESL eliminates the manual process and at the same time enables dynamic pricing strategies allowing retailers to adjust pricing based on stock levels, demand, and market conditions.
Standardization is key here to ensure interoperability, security and to allow retailers to have systems that can be installed and easily maintained over a long lifespan. At the same time, Bluetooth can also be leveraged to keep tags updated with the latest firmware, using Over-The-Air Device Firmware Updates from the gateway itself.
Moreover, by using Bluetooth as the protocol, some ESL systems can mix and match with other Bluetooth technologies, such as Bluetooth Direction Finding for a quick positioning, enabling staff to quickly and easily identify the specific location of individual product lines across the store. This is particularly beneficial to staff responsible for picking and replenishing stock. Paired with Wi-Fi-connected shelf cameras and Cloud-based AI models, savvy retailers are also remotely monitoring stock to ensure shelves are well stocked and only replenished when necessary.
The smart labels can also be used as beacons for marketing to consumers in close proximity via compatible smartphone apps, at the same time allowing retailers to gather insights into customer behavior to provide improved shopping experiences, personalized marketing, and to increase conversion rates in store.
Widescale adoption looms
Nordic Semiconductor, as the market leader in Bluetooth LE, has already introduced the PAwR and EAD features as standard in its qualified Bluetooth 5.4 SoftDevice Controller in the nRF Connect SDK, and companies developing ESLs can start working with this technology today thanks to the pre-release reference example (both gateway and tags) now available on request by opening a private ticket on DevZone or by contacting Nordic sales.
Nordic's SoCs meet the ultra low power requirements of ESLs where the number of tags involved prohibits even infrequent battery changes, while the Flash and RAM allocation ensures they can store the volume of information required to implement a fully-featured ESL system. Both the nRF53 Series and several of the nRF52 Series SoCs also support Direction Finding, enabling optimized order picking and replenishment functionality.
The announcement of the standard has provided retailers with the impetus to commit to this technology. ABI Research claims 185 million ESL units were shipped last year, and that by 2028 annual shipments will reach 558 million, with a total installed base of some three billion ESLs. For example, Fortune 500 leading light and U.S. retail behemoth Walmart has entered an agreement to roll out 60 million digital shelf labels across 500 locations over the next 12 to 18 months. Others will follow.