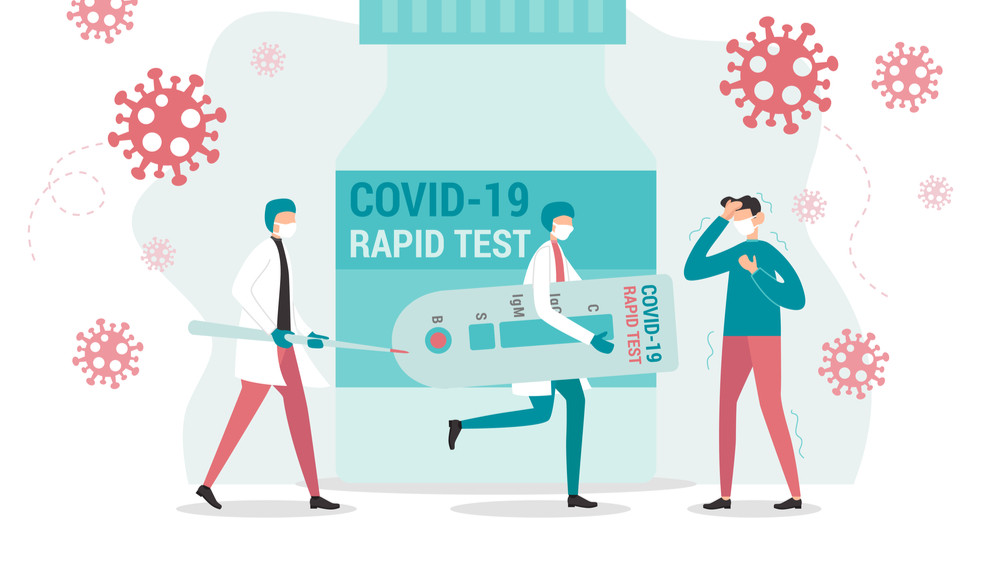 Advanced digital diagnostics combined with IoT connectivity comes in handy when fighting a global pandemic's severe impacts.
By the end of 2020, the U.S. had performed over 250 million tests for COVID-19 (according to analyst Statista), yet transmission of SARS-CoV-2 (the coronavirus that causes COVID-19) has still continued to surge. Experts anticipate the U.S. alone would require anywhere between 4 million and 20 million COVID-19 tests per day to bring the pandemic under control. Currently, daily testing rates do not come close to these targets.
The wide availability of COVID-19 tests that yield accurate, rapid results would provide a much-needed boost to detecting infectious people before they're able to spread the virus among their community. But providing regular access to such tests on the massive scale required is easier said than done; nonetheless, this must be a goal for governments and health authorities around the world.
Self-testing solutions
One solution to the current distribution, access, and efficiency challenges could be found in self-testing kits sold over pharmacy counters. The idea behind self-testing is that people pick up a rapid antigen test for COVID-19 from their local drugstore—ideally without needing a prescription—then test themselves and process the results comfortably and safely at home.
Rapid antigen testing can be used to slow the transmission of the virus and work towards the so-called herd immunity threshold. Even though the U.S. Food and Drug Administration (FDA) has authorized a COVID-19 vaccine already, at-home tests could still prove invaluable as a fast and convenient alternative to off-putting medical appointments and public testing sites. Home tests can also help reduce the burden on diagnostic laboratories.
There could be wider benefits too. For example, Australia's Qantas Airways, among other airlines, has announced that passengers will require a COVID-19 vaccine to board international flights. Still, the airline and competitors might also be open to allowing flight access if non-vaccinated travelers can provide evidence of a negative home-test result. Moreover, as governments force international travelers to show proof of a negative test for the virus, rapid self-testing methods could shorten the queues of passengers waiting to enter a country.
FDA-authorized home test
Rapid home-based antigen testing could extend access to testing and help identify COVID-19 hotspots sooner. Ellume Health, a Valencia, CA and Brisbane, Australia-based digital diagnostic company, has released the FDA-authorized 'Ellume COVID-19 Home Test', a safe and simple-to-use self-test allowing individuals to check for active COVID-19 infection in 15 minutes or less.
After using the Ellume test, patients presenting a positive result can self-isolate for the recommended period ahead of a safe return to workplaces, educational institutions, travel, and group activities in general.
The Ellume solution is an antigen test that detects viral proteins and has demonstrated 96 percent accuracy than an Emergency Use Authorization (EUA) molecular test in an independently-run, U.S. clinical study in five states. Notably, the Ellume test is authorized for testing anyone from the age of two, with or without symptoms, to identify COVID-19 cases that might otherwise go undetected. The makers thus claim it's the most versatile rapid antigen test currently available.
Nordic-enabled connectivity
The Ellume COVID-19 Home Test represents a working example of advanced digital diagnostics combined with IoT connectivity to fight a global pandemic's severe impacts. Using ultra-sensitive optics, electronics, and proprietary software, the test can analyze a nasal swab to test for SARS-CoV-2.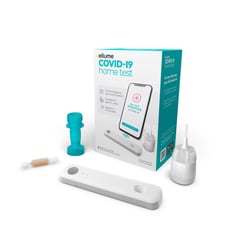 Within 15 minutes, the result can then be transmitted from the test unit to the user's smartphone via Nordic-powered Bluetooth LE connectivity. An associated smartphone app relays the information through a secure Cloud connection for sharing with healthcare professionals and others. Such real-time reporting of test results to health authorities, employers, and educators helps with COVID-19 hotspot mapping and rapid reaction to outbreaks.
In addition to the wireless connectivity, the nRF52810 powers the home test's diagnostic software. The ultra low power SoC also extends the battery-powered home test's shelf life and ensures instant operation when the test is needed.
Manufacturing to meet demand
COVID-19 testing needs to multiply to bring the pandemic under control. Ellume has increased the size of its Australian manufacturing facility and is rapidly expanding its manufacturing efforts and supply chain in the U.S. with the aid of a US$30 million award from the U.S. National Institutes of Health (NIH) Rapid Acceleration of Diagnostics (RADx) initiative.
The company plans to ship over 100,000 tests per day from January 2021. The goal is to deliver 20 million Ellume COVID-19 Home Tests to the U.S. within the first half of 2021. This still falls short of what is required for a return to normality. But by bolstering testing efforts, the home test offers hope for a future where coronavirus is contained, the vulnerable are protected, and life as we knew it is once again possible.