Wireless access control benefits facility operators and occupants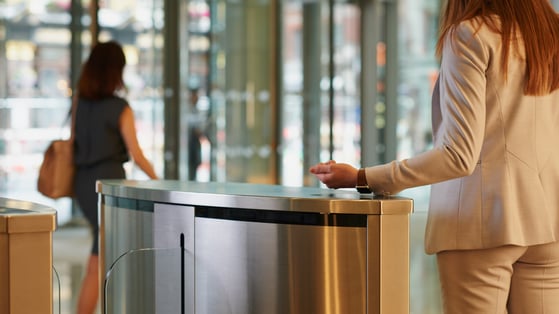 Wireless access control is rapidly becoming a key defense across commercial, industrial, residential, government, and military verticals in an age where security is the top priority for facility managers and safety departments. The use of wireless technology enables systems that determine who can and can't go into restricted areas to become far more sophisticated and effective.
Securing the premises
Organizations regulate access for visitors and employees to protect property, assets, and people. In addition, establishments must meet increasingly strict liability and mandatory compliance factors.
The answer to these security requirements lies in integrated hardware systems for authentication, including encrypted door controllers, wireless lock systems, smart cards, and biometric applications, including facial or fingerprint recognition technologies. Associated cloud software makes it simple to add new users or revoke access using a web interface in the facility manager's office.
Improving the occupant experience
But the scope and appeal of advanced access control stretch beyond security alone. In the post-Covid-19 era, three out of four U.S. facility managers say the pandemic has caused them to permanently rethink how their organization operates, according to a survey conducted by KRC Research on behalf of Honeywell Building Technologies.
While U.S. facility manager respondents express strong interest in upgrades to improve the occupant experience, such as more innovative building environments, conclusions from the Rethinking Buildings Post-COVID-19 report indicate a sizeable gap between the vision and the actual technologies deployed in buildings to date. For example, of those surveyed, 67 percent say the buildings they manage do not have contactless entry.
Nonetheless, facility managers are planning for a better post-pandemic future, with 56 percent now more willing to invest in occupant experience solutions such as contactless building access.
Access control market rising high
Such momentum points to a quick bounce back for a global access control market that dipped from a value of $10.31 billion in 2019 to $8.6 billion in 2021 due to pandemic-dampened demand across all regions (says Fortune Business Insights). The analyst now predicts the global access control market will grow at a compound annual growth rate (CAGR) of 8.7 percent from 2021 to $13.1 billion by 2026. A Future Market Insights study forecasts the access control market will reach $50.4 billion by 2031, growing at a CAGR of 12.6 percent over the course of a decade.
The projected growth for the global access control market will likely be propelled by a combination of factors, including continued advances in technology and greater deployment of wireless security systems. Further boosting the market, access control systems are increasingly being adopted by small- and medium-sized enterprises as well as hospitality businesses, airports, banks, religious venues, and residential buildings.
A Bluetooth mesh-based access control system
One example comes from access control technology company Spintly, which has launched a solution designed to upgrade regular doors to smart doors. The Nordic nRF52832 SoC-based SMACC-UNO solution—which Spintly claims is the world's first Bluetooth mesh-based access control reader—enables reader devices to scan credentials via the user's smartphone or NFC card and provide access to a door following successful authentication without recourse to a central device or gateway.
This eliminates the need to install wired controllers on site and enables seamless smartphone-based access to internal doors, boom barriers, and turnstiles at commercial office spaces, shared workspaces, residential buildings, and other facilities.
The reader and controller not only act as a device to wirelessly communicate with the user's smartphone but also as a node in a Bluetooth mesh network to relay access and permissions data to other readers and/or a gateway. All events such as access histories and door events can be transferred to the Cloud via a proprietary nRF52832-based gateway. HR and security administrators thereby receive notifications in real-time about movements in the facility through a smartphone app or web-based application.
Supported by short-, medium- and long-range wireless connectivity, any facility could soon be equipped with smart access control capabilities that bring both the innovative building environments facility operators demand and make things safe and secure for building occupants.