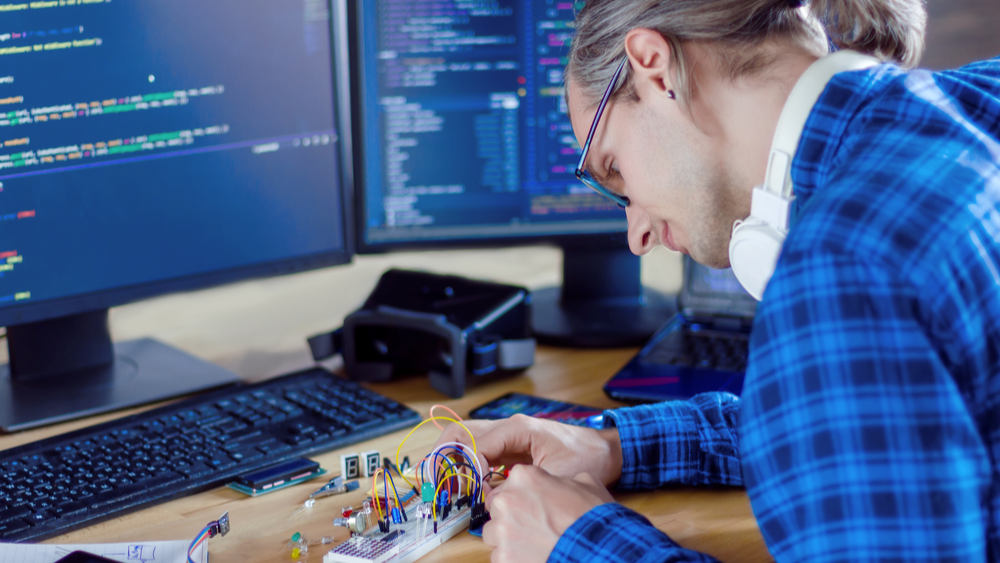 Nordic Semiconductor is looking for standout talents and ideas in a contest to find new solutions for smart homes and cities. A $3,000 prize pool is waiting for the best and the brightest coders in the Make it Smart with Nordic Thingy:91 design contest. Get going, as the deadline for final submissions is April 13, 2022
We are proud to enable innovation across existing and emerging IoT markets. In 2022, we are actively looking for the best cellular IoT design projects for a smart home or city application to kickstart wireless creativity.
Coders are encouraged to demonstrate IoT ideas with Nordic Thingy:91
The Make it Smart with Nordic Thingy:91 design contest, launched in conjunction with the maker, hacker, and hobbyist community website, Electromaker, encourages coders to demonstrate their ideas using our industry-leading Nordic Thingy:91 cellular IoT prototyping platform.
The contest asks entrants around the world to get creative. We would like to see a wide array of project idea submissions. Ultimately we hope the ideas will generate tangible solutions to fill gaps in the smart home and smart city markets. In addition to innovation, the judging criteria will cover completeness and complexity.
Overcoming IoT project challenges with Nordic Thingy:91
That complexity challenge is one faced by all cellular IoT developers. In addition to getting to grips with RF engineering, ambitious projects typically incorporate various elements across embedded programming, multiple analog and digital sensors, the Cloud, and analytics. Any of these can quickly become an obstacle in the way of commercialization and market viability.
Fortunately, we at Nordic Semiconductor can help nascent ideas get off the ground. By building a working prototype or Proof-of-Concept (PoC) to demonstrate a project successfully, developers are better situated to receive much-needed technical support and the financial backing required to scale.
Competition entrants will benefit from Nordic's help by using the Nordic Thingy:91. The cellular IoT prototyping platform is ideal for creating PoC, demos, and initial prototypes.
Thingy:91 is built around the nRF9160 SiP, certified for a broad range of LTE bands globally. The cellular communication can be interleaved elegantly with GNSS positioning acquisition, perfect for sophisticated asset-tracking product ideas, among many other IoT solutions. The development platform is packed with a multitude of sensors for motion, impact, air quality, and more.
The nRF Connect SDK supports Thingy:91, and there are examples for all sensors and connectivity functionality. Thingy:91 also features an nRF52840 multiprotocol SoC (System on a Chip). This provides the option of adding Bluetooth LE connectivity to project ideas. The Thingy:91 provided in the contest comes complete with a global use SIM card from iBasis and Arkessa, both of which offer a free data plan to get contestants up and running immediately.
Adding machine learning
Nordic and Electromaker will award the top 50 project idea submissions with free Nordic Thingy:91 hardware. Participants can then build their prototype and submit their documentation to Electromaker.io. Already have the Nordic Thingy:91 or nRF9160 DK? You can also enter the contest.
The Nordic Thingy:91 and the nRF9160 DK benefit from Edge Impulse's TinyML support. TinyML is a scaled-down form of machine learning (ML) suitable for Internet of Things (IoT) edge devices such as wireless sensors. When using TinyML, Cloud-based ML training and model synthesis is simpler and faster than conventional techniques that rely on server training of increasingly large and complex models.
The collaboration between Nordic and Edge allows competition participants without TinyML programming expertise to quickly get started on fully supported standalone "inferencing" (applied Machine Learning at the device level) example projects that can then be run on the Nordic Thingy:91 or the nRF9160 DK.
Make it Smart with Nordic Thingy:91
. Are you
in it to win it?
The $3,000 prize pool features the 1st prize of $1,000, the 2nd prize of $750, and the 3rd prize of $500. In addition, all participants with approved and published projects will receive a $50 Amazon voucher. Projects that incorporate ML will be eligible for a bonus prize of an Oculus Quest 2 VR headset.
The deadline for final submissions is April 13, 2022, with contest winners announced two weeks later, on April 27, 2022.
To enter Make it Smart with Nordic Thingy:91, click here.