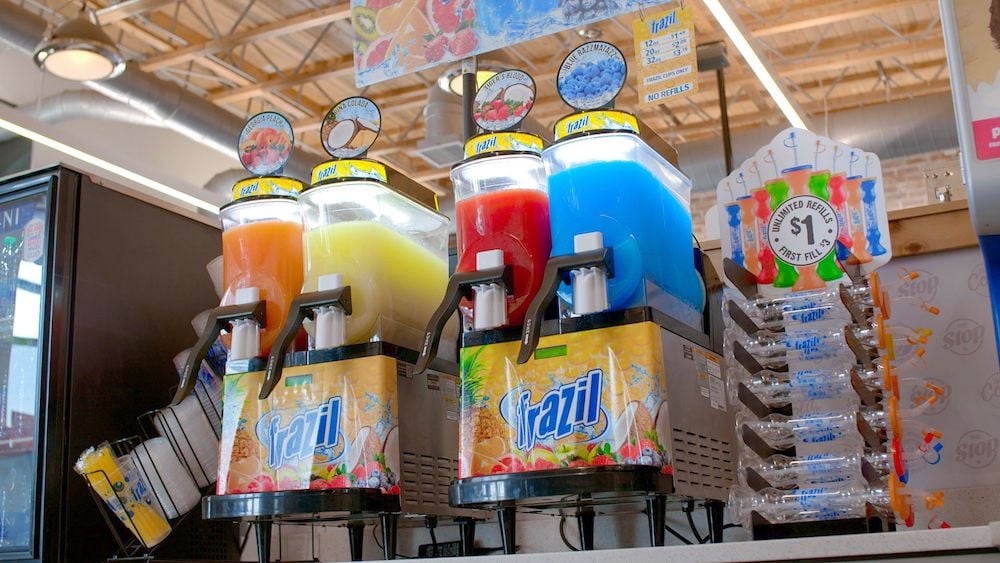 Crushed ice-flavored slushies are popular but nothing new. And lack of innovation is the mark of a market that's at risk of falling out of fashion and into decline.
Frozen in time
U.S. frozen drinks company, Freezing Point, owns a highly popular American slushie brand called Frazil. About five years ago, the U.S. frozen drinks market's sales were beginning to flatten out. The problem was the industry was short of new retail ideas.
But Freezing Point was determined to buck the trend. So, the company turned to the IoT to revitalize its sales approach. Through Nordic's nRF9160 cellular IoT System-in-Package (SiP), Freezing Point has introduced wireless connectivity to the frozen beverage industry for the first time.
Freezing Point's innovation is the perfect demonstration of how the IoT can reinvigorate a retail market that's in decline because little has changed in years. And sometimes for longer; in the case of the U.S. frozen beverages market, the status quo has existed since the 1950s.
Back to basics
The turning point for Freezing Point was a realization that underperforming stores had one thing in common: retail staff were apathetic towards the product and, in turn, the machines. Machines were not being maintained or refilled. Nearly empty reservoirs kill sales because consumers think that the beverage inside is old and stale – even if that is not the case.
Freezing Point needed a way to continuously monitor a few key machine performance parameters. Armed with this data the company could get a handle on which stores were operating its machines correctly, and which were failing and needed encouragement to improve.
Wireless and cellular IoT to the rescue
Starting in 2018, Freezing Point developed an nRF9160 SiP-based, low-cost, retrofittable cellular IoT circuit board that could be attached to the Frazil machine to facilitate remote monitoring. The cellular IoT technology was then fitted to several thousand machines already in the field. Freezing Point uses the LTE-M version of cellular IoT on the U.S.'s Verizon telecom network. (The nRF9160 is a multimode device supporting NB-IoT cellular IoT technology.)
Since then, Freezing Point has built cellular IoT into all its new slushie machines as standard and uses the technology to collect data on such things as filter cleaning, beverage quality, and stock levels. If things aren't happening as they should, it tends to indicate that the store is falling behind.
The company also collects precise operational data to spot machine maintenance problems before they affect the performance of a machine. This includes the nature of the issue and whether it requires a technician to be sent out to the store or whether it could be rectified remotely. Just in the last two years, the company says it has received 400,000 remote machine alarms, of which 25,000 required remedial action.
By using the GNSS feature of the Nordic nRF9160 SiP, Frazil is also keeping track of where its machines are located. Machines can suddenly get moved within a store, impacting sales. There are also situations where during a store refurbishment or move, machines can go missing. The machines are expensive pieces of capital equipment and when they're mislaid, they're not generating income.
Freezing Point says the nRF9160 runs almost all remote monitoring and maintenance functions and is a critical element of machine design. The company says the SiP is simple, compact, and powerful enough to meet all its needs.
The numbers speak for themselves
Today Frazil is the number-one-selling, and fastest-growing slushie drink beverage brand in the U.S. by a long margin. It has 20,000 machines in the market and a demand pipeline that will continue its aggressive growth pattern.
Freezing Point says its success has attracted the attention of big retail chains dissatisfied with the sales performance of slushie machines from other manufacturers. These potential customers are interested in optimizing the retail desktop space occupied by the slushie machine and making each a proven profit center.
Cellular IoT helps retail survive
Covid lockdowns, the shift to online shopping and home delivery, rising inflation, and a cost-of-living squeeze have all conspired to hit regular bricks and mortar retailers hard.
By taking advantage of cellular IoT, Freezing Point is pointing the way toward a retail sector that not only survives but thrives. The company is showing that it's the responsibility of the equipment supplier to remove the pain for the retailer.
But care is needed. The IoT enables the generation of a lot of data that can be an advantage when analyzing what happens in the long term. However, Freezing Point advises that from an operational perspective, it's important to focus only on a small number of critical parameters. The company says that carefully monitoring these key parameters will see retail performance increase positively and sustainably.
Benchmarking IoT data by operational category to other users of the technology and making that information available to a retailer allows them to see how others are performing relative to peers of similar size and within their region, says Kyle Lemmon, COO, Freezing Point. This helps highlight levers a retailer can pull to improve performance, he adds.