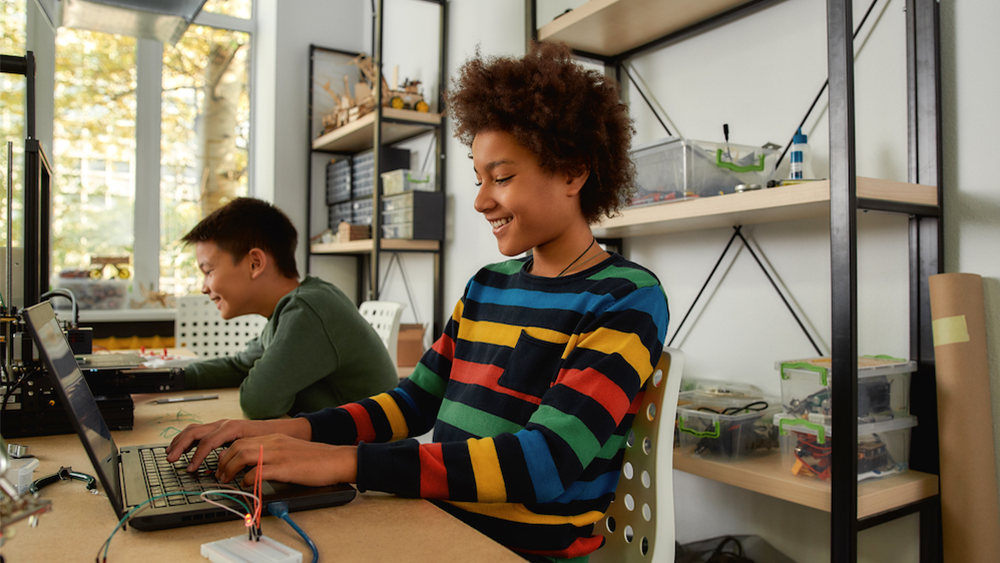 Urgent action is needed to protect young people's futures and prevent a lost Covid-19 generation. That's the opinion of former Director-General of the Confederation of British Industry (CBI), Dame Carolyn Fairbairn.
Dame Carolyn says today's young people face severe interruptions in their education and training. But on a global scale, the educational crisis is not new. Even before the pandemic caused disruptions, 268 million children were excluded from school (UNESCO).
The onus to realize everyone's fundamental right to quality education falls on governments, industries, companies, and STEAM educators. Technology developers have a critical role to play too. When made easily accessible, new coding and computational thinking solutions can help build the digital skills of tomorrow's innovators. These digital skills will, in turn, allow children and students everywhere to improve their life opportunities. At the same time, they can contribute to a more advanced society prepared to tackle global challenges.
Rethinking education
Those challenges are diverse and will be difficult to overcome. In a message delivered on the fourth United Nations' International Day of Education (January 24, 2022), Audrey Azoulay, UNESCO Director-General, pointed to the essential role of education for global peace, sustainability, and development.
"Glaring inequalities, a damaged planet, growing polarization, and the devastating impact of the pandemic present us with a generational choice: continue on an unsustainable path or radically change course," asserted Azoulay. "In these exceptional times, business as usual is no longer an option. If we are to transform the future, if we are to change course, we must rethink education."
The digital skills gap
But as it stands, even as education systems try to keep pace with rapid change, there is often insufficient support to teach necessary digital skills. It all adds up to a growing deficit in opportunity for young people, especially for girls and those from other under-represented groups, explains Gareth Stockdale, CEO of the Micro:bit Educational Foundation, a not-for-profit founded in the U.K. in 2016.
From the employers' perspective, finding the digital skills they require has become increasingly difficult. And when they are available, there is a lack of diverse candidates, according to Stockdale, adding these issues are being felt globally and affect billions of young people.
Finding a solution, claims Stockdale, will hinge on revolutionizing how young people are taught, equipping them with the skills to adapt to the digital present and future.
"Without these more diverse perspectives influencing the creation of technology, we will perpetuate–even deepen–social and economic inequity due to the pivotal role technology now plays in every aspect of modern life," he says.
Creating opportunities
Given that 65 percent of children entering primary schools in 2016 will work in jobs that did not exist at the time (World Economic Forum), our inability to support their digital education is a massive problem that must be addressed. The good news is that change is already underway.
One of the ways that the Micro:bit Educational Foundation addresses the challenge is through the new BBC micro:bit, a pocket-sized computer and user-friendly educational resource using a Nordic nRF52833 SoC as the device's main microprocessor.
Powered by the SoC's powerful 64 MHz, 32-bit Arm Cortex M4 processor with a floating-point unit (FPU)—a significant upgrade on the 16 MHz, 32-bit Arm Cortex M0 processor used on the original micro:bit—the new micro:bit integrates, amongst other things, magnetometer, accelerometer and temperature sensors, supporting complex functionality such as AI and machine learning (ML) applications.
The Foundation has teamed up with various initiatives to launch programs dedicated to digital literacy and high-quality technical education for all. A Nordic Semiconductor grant supports several of these project partners' activities. The Nordic-funded projects target young people from low-income communities with minimal technical infrastructure, predominantly in Africa.
For example, Nordic supported 'Teens Can Code', a registered social enterprise, to train 52 volunteers who went on to carry out workshops focused on the 'do your :bit' challenge. The workshops encouraged young people to apply micro:bit and other technologies to tackle the UN's Sustainable Development Goals (SDGs) for children aged 8-18 across seven states in Nigeria. These workshops benefitted 1,201 students, of whom 610 were girls.
Learning to code
Also in Nigeria, 'CS First Lagos' has used Nordic funding to train teachers and students about coding and digital skills across four regions of the country. An estimated 500 students attended a launch event broadcast on Silverbird TV, with students given the chance to win their own micro:bit.
Ninety-five percent of the students taking part were learning coding for the first time. Events have since taken place and generated positive responses from participants in Uyo, South-East Nigeria. The program next moves to the South-West region of the country.
In Uganda, Nordic funding has enabled Mindset Coders to carry out school workshops, teacher training, and community-based training in slum areas, remote communities, and refugee centers. Activities have focused in and around Kampala, with 158 girls participating in workshops.
Meanwhile, 281 Ugandan teachers have attended the training sessions and shared their excitement about using the micro:bit to teach digital creativity and re-invigorate their ICT clubs, many of which had been lying dormant.
If digital literacy initiatives like these can not only teach but inspire future coders and innovators, a brighter future beckons for society as a whole.