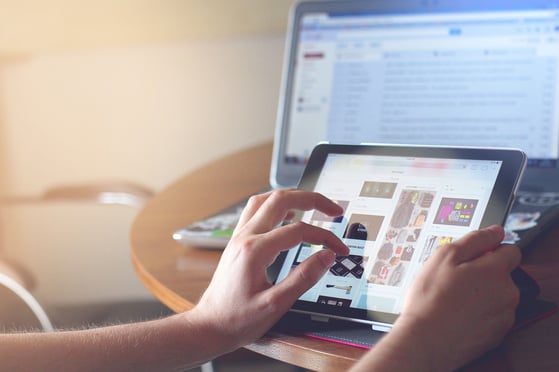 Wireless charging technology has been around for a while now, but a new deal to incorporate the technology into Dell equipment should launch it into the mainstream later this year.
The new Dell Latitude 7285 2-in-1 featuring Airfuel-certified technology was one of the highlights at this year's CES, the global consumer electronics and technology trade show held in Las Vegas.
While data connectivity has been wireless in laptops for years, the power cord has up until now remained in place.
A fully wireless workspace
The new Dell Latitude 7285 charges seamlessly when placed on an AirFuel-compatible charging surface. For workers who will use the 12" tablet (which comes with a detachable keyboard dock) as a more permanent machine, a WiGig wireless dock completes the wireless workspace.
The laptop starts charging immediately when placed on a compatible mat or surface, with no other setup required. Although slower than plugging in the laptop to the wall, it is claimed that about 30W of power is transmitted through the magnetic resonance technology.
Up until recently, progress of wireless charging technology had been held back by compatibility issues and legal challenges. The most popular standard up until now has been Qi from the Wireless Power Consortium, but this collaboration with Dell looks to give the rival AirFuel Alliance a promising future.
Which standard wins out will not necessarily be determined by which is the "best" technology. Blu-ray beat HD-DVD not because of the technology, but because of its hardware deals and retail distribution.
How wireless charging works
There are two main standards in the market today. Both are based on electromagnetic induction using coils.
The Qi standard requires the user to place his smart phone's receptor coil very precisely over the charging coil. In real life a receptacle or cradle is recommended, which may limit any charger to fit one type of smart phone.
AirFuel adds some convenience by being less sensitive to coil placement, allowing simultaneous charging of multiple devices. This covers several different makes and models of smart phones, and is more suitable for integration into furniture.
The thought of electricity being wirelessly transmitted is obviously a concern to some people. But there are sources claiming that using a smart phone in the first place, is up to 100 times more dangerous.
Better batteries or better charging technology?
One major factor holding back a faster transition to a truly connected, mobile world is the capacity of batteries.
As soon as smartphone battery capacities improve, new functionality and processing power is added to the end devices. So to the end user, battery life never seems to improve.
> Read more: The importance of average power consumption to battery life
Although battery technology is ripe for disruption, perhaps the introduction of better wireless charging options will solve the problem.
Next up in the world of wireless charging is the intriguing market of electric cars. The need to find somewhere to plug in the car is certainly something that preys on the mind of anyone considering purchasing one. The ability to charge a car wirelessly could result in more charging stations to help overcome this problem.
The STILLE standards project is designed to drive wireless charging interoperability in the global electric vehicle market. The likes of Audi, BMW, Daimler, Toyota Motorsport and Toyota Motor Europe are also taking part. We will be watching this space with interest.
Photo: https://edubirdie.com/