How cellular IoT is transforming the dated water cooler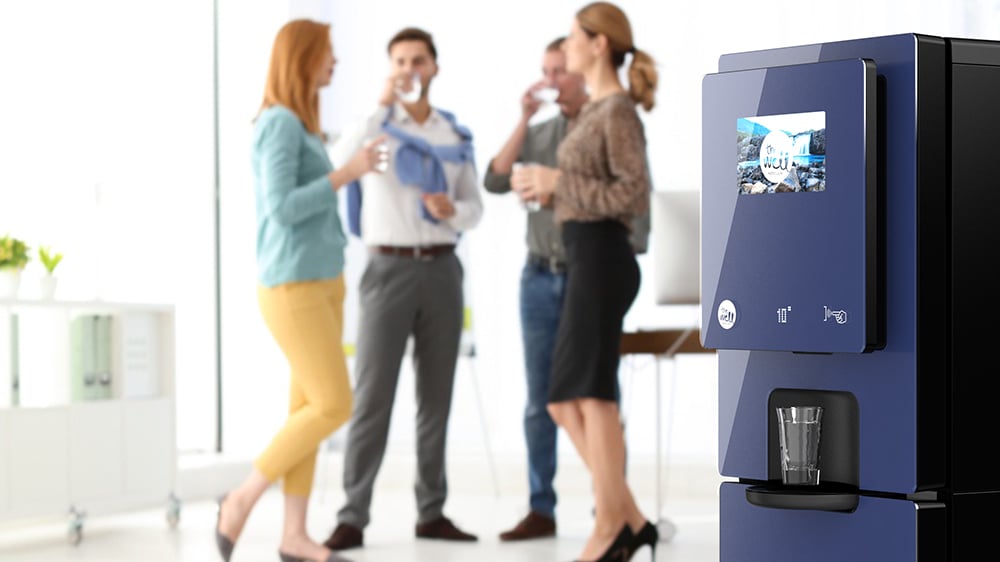 Traditional water coolers using large plastic water containers are found everywhere, from offices to dentists to hairdressing salons. But they're notoriously prone to relying on fixed vehicle delivery schedules that don't match actual customer demand leading to routine over– and under-stocking.
There has been a quiet revolution going on in the IoT over the past few years. And one of the prime targets is legacy applications that, although crying out for a smarter approach, couldn't previously justify the technological and commercial cost. One example of this is the globally ubiquitous, large plastic container water cooler industry.
For decades this multi-billion dollar industry has relied on completely 'dumb' water coolers whose stock levels cannot be monitored by anything other than the human eye. A fact that forced water cooler delivery companies to re-stock on a fixed schedule basis to keep their costs down, showing little or no relation to actual consumption levels.
This is why Irish company, Aqueduct - The Well Water Ltd., believes the legacy water cooler industry is prime for transformation. "With the advent of cellular IoT, connecting a water cooler to the cloud has suddenly become viable in a way that simply wasn't technologically or commercially feasible even a few years ago," explains Kieran McKenna, CEO of The Well.
The connected water cooler
The Well will soon be launching what it claims is a "revolutionary" new kind of cloud-connected water cooler. It continuously monitors stock levels down to individual water coolers on separate floors. In doing so, it can rapidly detect changes in usage patterns and optimize delivery routes keeping coolers full while eliminating unnecessary or emergency visits from delivery vehicles.
In operation, The Well iCooler employs a Nordic nRF9160 System-in-Package (SiP) to communicate both cooler location and status info (for example, water stock level and if the cooler is on or off.) The NB-IoT cellular IoT connectivity between water cooler and supplier also supports maintenance status and alerts, which allows for the easy identification and rectification of any issues before the end customer even realizes they had a problem.
The iCooler can display general staff or visitor information on a large color touchscreen, utilizing its common location within busy reception areas and waypoints within a building.
The iCooler uses a single SIM from The Well and Nordic Semiconductor partner, Arkessa, a global cellular IoT connectivity specialist. "NB-IoT connectivity allows deeper penetration into buildings and supports low-cost deployment models, making it a great choice for static, low duty cycle applications," explains Arkessa CTO, John Freeman. "And that pretty much describes the water cooler industry."
Avoiding wireless technical issues
"One of the key technical aspects of the iCooler design was the decision to mount the cellular IoT PCB board with the Nordic nRF9160 SiP on the front door of the cooler." It's the words of Ian Mellor, Director of IMME Design (an embedded design consultant that helped The Well realize the technical design of their iCooler). "The theory here was that the door would most likely be positioned away from wireless signal attenuating walls," he says.
Mellor explains that they chose the nRF9160 SiP because it's small and highly integrated and offers excellent power consumption and on-air performance. The SiP's internal Arm Cortex M33 CPU core and the accompanying memory were also major drawcards, says Mellor, also highlighting IMME Design's previous experience with Nordic's technical support.
A totally different paradigm
But what this application illustrates so well is how transformative cellular and wireless IoT is becoming. The fact is that there are countless legacy 'dumb' products and applications that could be transformed by adding a level of basic intelligence.
As McKenna very neatly concludes: "With the cloud, the sky really is the limit nowadays in terms of innovation and possibilities."