Improving transport facilities with wireless wastewater management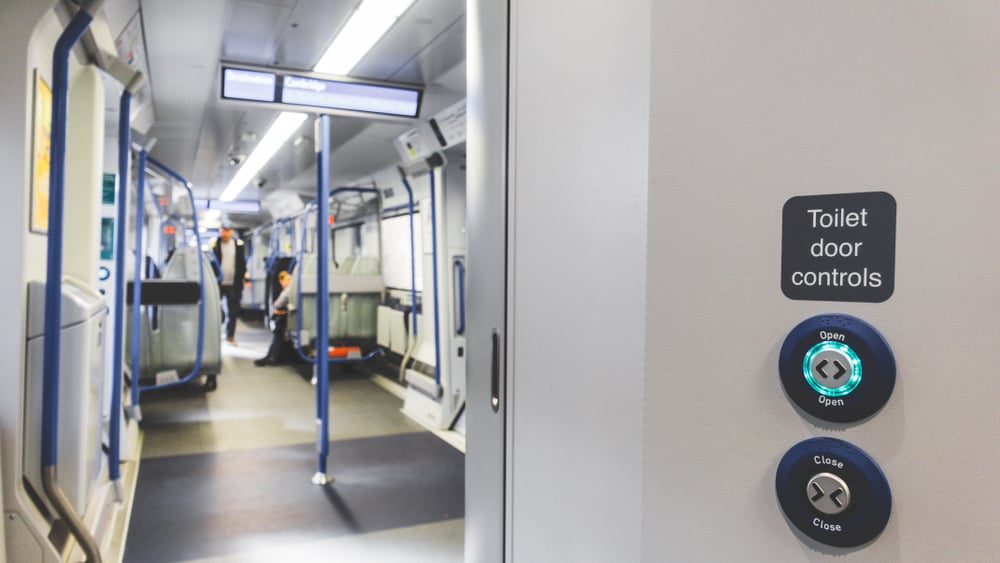 When the average American toilet is flushed, six liters of water surge with a force of up to 40 psi before traveling over a million miles of irrigation and pipework. Yet, given that the plumbing is fixed to a set route with minimal diversions, this isn't even the most complex wastewater management application to consider. Toilet systems on planes or trains travel thousands of kilometers daily and must remain in good working order from journey to journey.
On the move
When a moveable sanitary water system experiences blockages, water pressure issues, or problems with the pipes or flow, the challenge to ensure the situation is promptly and efficiently resolved is a big one.
There is often limited time in the schedule for emptying and maintaining tanks, and the service stations where maintenance can be performed aren't always readily available. As a result, engineers and maintenance personnel can work under as much pressure as the tank or pipe.
Hygiene standards for public transport also dictate that any issues should be resolved or isolated as soon as possible. This means individual toilets, whole bathrooms, full carriages, or even entire trains can be taken out of commission due to sanitary issues until the problem is fixed – an enormously disruptive event for commuters.
In addition, even if only one or two amenities are directly affected, it can place more pressure on the remaining facilities of a delicate system, potentially causing further problems. And so the cycle continues.
Looking deeper with cellular IoT
These wastewater challenges are not rare occurrences. British train operating company South Western Railway, has cited a lack of water and tank faults as two of the three main faults for train toilets.
Any unrelated delays to transit times can also affect the planned emptying schedule of the tanks, which will automatically stop functioning when full. The commonly used CET (controlled emission toilet) tanks also require specialist equipment to empty and fix, adding another layer of difficulty if there are any problems on board.
Knowledge of what's going on inside the system is essential. Sensor-based wireless solutions can provide previously unavailable insights into the status of tanks and pumping equipment.
Various sensors monitor key variables, such as pressure and moisture levels, indicating if there are any blockages or leaks. The technology can then communicate the success or failure of the pumping process to a cloud platform via cellular IoT connectivity.
This insight becomes dramatically more beneficial when considering the sheer volume of tanks; for example, across the railway operator Deutsche Bahn's network in Germany, there are, on average, 20 tanks per train, operating on more than 40,000 trains daily.
Remote access to cellular IoT data
Moreover, providing remote access to this data is key because the tanks and pipes can be hard to reach. This is especially important when vehicles are travelling over such large distances, so that the next service station can be made aware in advance of the incoming vehicle's requirements.
Knowing as soon as a problem is detected can also help prevent further escalation, especially if the issue, such as a slight blockage, can be quickly remedied. In other circumstances, cracks and leaks may mean the tank needs to be shut off immediately to prevent further damage and potential biohazard issues.
An advantage of wireless technology is that it can usually be retrofitted into an existing system, or service a single aspect of it, like the pump. The lack of wiring also simplifies the installation process.
A wastewater pump monitoring system
To help monitor its wastewater tanks wirelessly, Deutsche Bahn has introduced 36 BeST SENSOR pump monitoring systems. The smart sensor systems have helped monitor over 30,000 instances of pumping, with information transmitted to the server using LTE-M connectivity provided by the integrated Nordic nRF9160 SiP.
The device itself analyzes the sensor data before the results are sent to the cloud. The data from the device's moisture, pressure and accelerometer sensors (among others) can then be viewed and analyzed by decision makers. Minor modifications also allow these sensors to monitor any water tank on a train, not only wastewater.
As the analysis of these results becomes more sophisticated, predictive maintenance for tanks can reduce the time facilities spend out of commission. This can also help allocate resources more efficiently by sending personnel to where they are needed, rather than having a set maintenance schedule for every tank regardless of its status.
Wireless wastewater management ensures a

greener future
Into the future, more transport companies may start to integrate wastewater monitoring systems to manage these key facilities effectively. But this opportunity isn't only limited to transport – any water monitoring capabilities can help reduce waste, and save energy, time and resources. Now, when tank water flows, so too does the information needed to quickly address any potential system failures.