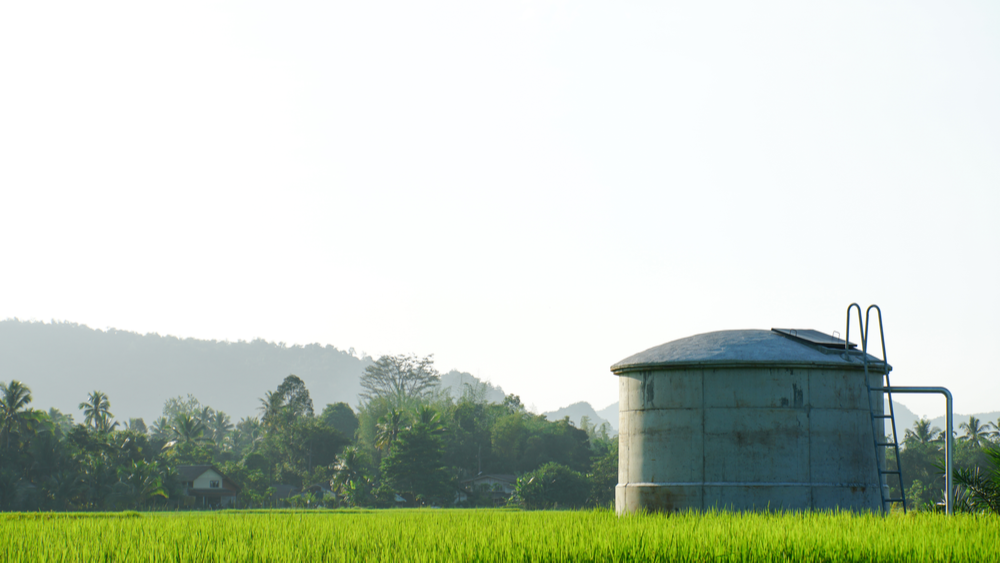 Lack of fuel can still be inconvenient, disruptive, and even life-threatening. Wireless level sensors are making sure we never run out.
Both cellular IoT and Bluetooth LE are vital in remotely monitoring tank levels, preventing running out of fuel or any other liquid essential to farming, industrial production, or transport.
Down on the farm
When it comes to farm sizes, there's big, and then there's enormous. Europe's largest farm is an arable holding in Romania, which at 570 square kilometers is roughly the same size as Singapore. This is nothing compared to the world's largest farm, the Mudanjiang City Mega Farm in Heilongjiang, China. It sprawls across 90,000 square kilometers and is home to some 100,000 dairy cows. To drive from one end of the farm to the other and back again would take 12 hours, which would leave little time for work despite the time of day dairy farmers rise.
Now, LTE-M cellular connectivity allows tanks in remote agricultural locations to wirelessly report their data so the user can monitor fuel, water, or fertilizer levels through a cloud platform, using their smartphone, tablet, or computer.
Launched last year, CoreKinect TankTrack is one such cellular IoT-powered farm tank level monitor. It consists of a battery-powered wireless gauge reader that can be attached to any ammonia, propane, or diesel storage tank using four permanent magnets.
Both container level and GPS location readings are sent via Nordic nRF9160-powered LTE-M cellular connectivity to the farmers, which allows them to respond remotely to shortages.
Answering industry's call
Remote level-monitoring solutions are also proving valuable in a range of industrial applications. Wastewater, chemical and petrochemical, and mining industries all require intermittent observation of fluids to ensure tanks don't run out or overflow and that the fluid is being drawn from the tank in line with expected usage.
Industrial facilities traditionally lean on networks of wired sensors, of course. A trend that is slowly turning now that wireless options enter the scene to offer much easier deployment, reconfiguration, and replacement.
Deploying these solutions replaces costly and production-disrupting cable roll-outs, while hard-to-reach assets connect through sensors operating on independent batteries that can last for years.
For remotely located tanks or sensors that generate higher data rates, cellular IoT is a long-range, low-power solution that comes in handy at an economically beneficial level.
An answer to skimming
According to fleet management company Verizon Connect, fuel costs can make up as much as 30 percent of a company's total spending. Because there are so many factors affecting truck fuel usage—like speed, sudden braking, acceleration, wind, and engine idling—it can be difficult to tell whether excessive fuel use is simply due to careless driving, or if 'skimming' (illegally draining fuel at the pump for other vehicles or to sell) has taken place. As approximately $10 billion of diesel fuel is stolen each year in the trucking industry, addressing the issue has become a priority.
One solution comes from one of Russia's leading manufacturers of M2M and IoT equipment, Escort Group, which recently launched a wireless fuel level sensor using Bluetooth LE technology based on Nordic Semiconductor's nRF52832 SoC. Once connected, data is wirelessly sent to a Bluetooth LE- and GPS-enabled tracking device, which then transmits the information to the Cloud. From there, detailed information can be viewed by fleet management.
The Escort TD-BLE fuel level sensor also offers 'black box' functionality to mitigate the effects of "electromagnetic tampering": It might seem clever to attempt jamming the signal from the sensor to create an unmonitored skimming window. But the exact sequence of events from the last 30 days can always be restored from the Nordic SoC on the sensor, providing fleet managers with the necessary data to back up any suspicion.
For farmers, fleet managers, and industrial operations, wireless level monitoring solutions can keep watch of our fuel tank levels when we cannot. This allows us all to make informed decisions—rather than guessing, when fuel is running low—while reducing costs, enhancing efficiency, and increasing safety.