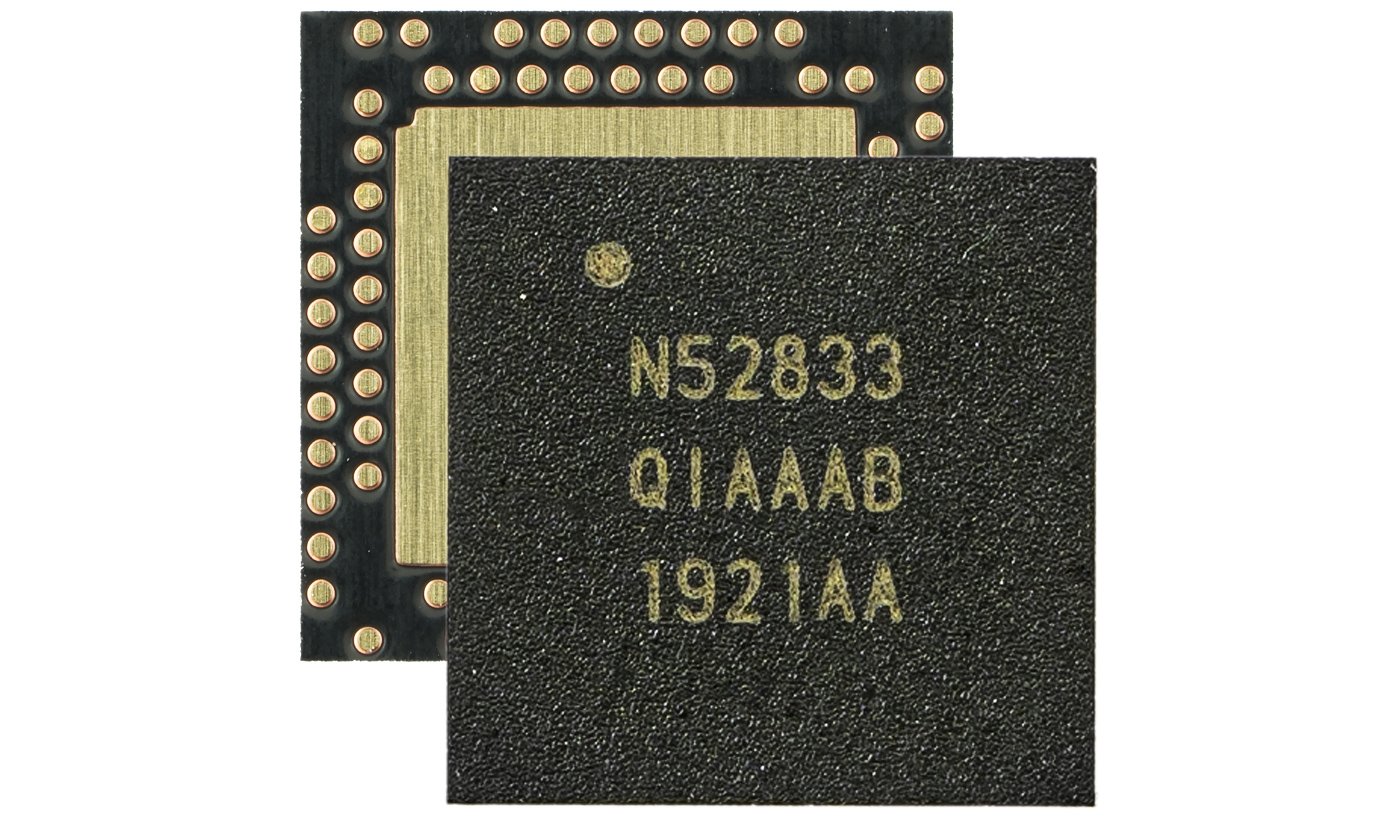 Nordic Semiconductor just released the nRF52833 System-on-Chip as the latest addition to the popular nRF52 Series. The Bluetooth 5.1 SoC has ample available memory and extensive dynamic multiprotocol capabilities, supporting Bluetooth mesh, Thread, Zigbee and other 2.4 GHz wireless protocols.
Coupled with an extended temperature qualification up to 105°C and a Bluetooth 5.1 Direction Finding capable transceiver, the nRF52833 targets a wide range of commercial and industrial use cases, including professional lighting and asset tracking applications.
The nRF52833 adds even more versatility to the nRF52 Series
The nRF52 Series is a proven and reliable HW-SW platform used in hundreds of millions of products across the world. The addition of the nRF52833 makes it an even more versatile platform.
The nRF52833 is built around a powerful 64-MHz 32-bit Arm® Cortex®-M4 processor with a floating point unit. The SoC includes a generous amount of Flash (512 KB) and RAM (128 KB) memory, making it an ideal option for a wide range of commercial and industrial wireless applications including professional lighting, asset tracking, smart home products, advanced wearables, and gaming solutions.
Perfect for elevated temperature scenarios
The increased temperature qualification across -40°C to 105°C is something that separates the nRF52833 from all other devices in the series. It is well-suited to elevated temperature scenarios like mesh lighting networks or factory production lines. 512 kB of flash and double the amount of RAM compared to the nRF52832 SoC allows you to run multiple protocols in concurrent operation. Dynamically switching between Bluetooth Low Energy and for instance Bluetooth mesh, Thread, or Zigbee can be valuable in IIoT use cases as this enables provisioning and commissioning of mesh nodes, and interaction with a mesh network from any device that speaks Bluetooth Low Energy.
Read more: The Industrial IoT
Like the nRF52840, the nRF52833 also has +8dBm output power for robust coverage in smart home applications, or where you need increased range. Additionally, the nRF52833 also includes higher-end peripherals like Full Speed USB, High-speed SPI, and a 1.7 V - 5.5 V input supply voltage range, previously only available on the nRF52840 flagship. This allows for using a variety of power sources such as coin-cell and rechargeable batteries, or USB, to power the device.
Asset tracking applications
Asset tracking is another target application area. The nRF52833 is the only device in the nRF52 series besides the nRF52811 to have a Bluetooth 5.1 Direction Finding capable radio. This improves the accuracy of positioning solutions by not only relying on the received signal strength indicator, but also using measured phase shift data to calculate a tag's location.
The added memory compared to the nRF52811 allows for implementing all roles, being either receiver and transmitter in Angle-of-Arrival and Angle-of-Departure scenarios, on the nRF52833.
In a property tech scenario, the nRF52833 can be used to create a mesh network using infrastructure lighting and use that same network for doing all kinds of data transfer. Be it asset tracking within the building, alarm triggering on peripheral sensor information, indoor positioning solutions, lighting control, and predictive maintenance of expensive equipment.
nRF52833 Development Kit Available Now
Accompanying the release of the SoC, the nRF52833 DK is an affordable single board development kit that allows you to explore all the features of the nRF52833 SoC.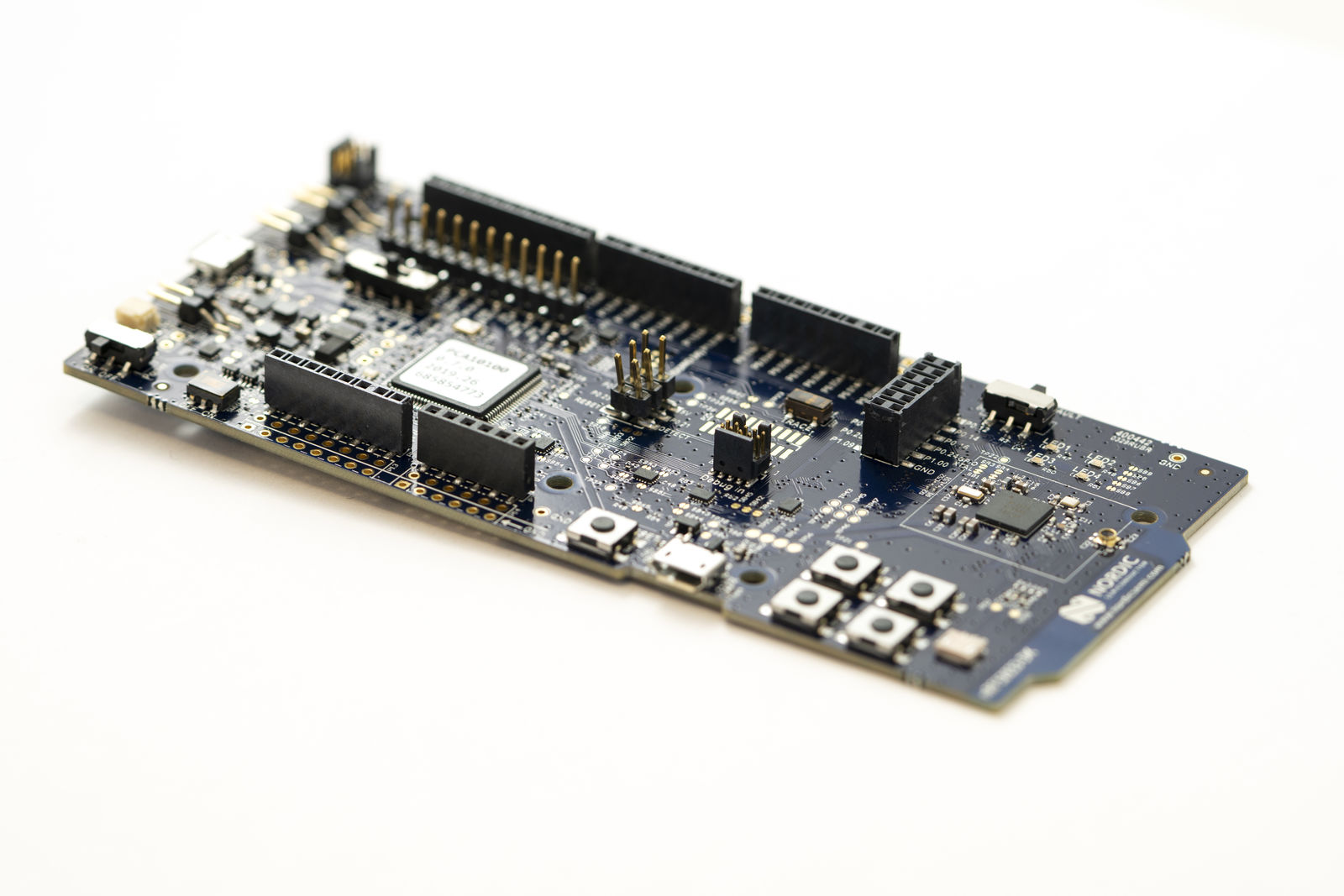 The kit has access to all 42 I/Os and interfaces via connectors and there are four user-programmable LEDs and buttons. There is an integrated PCB trace antenna and an SWF connector for direct RF test measurement, and there are ports for measuring current consumption. Included in the kit is also an NFC antenna for use with the nRF52833 NFC-A tag support
The DK is compatible with the Arduino Uno Rev3 standard, enabling the use of the compatible Nordic Power Profiler Kit and a wide range of third-party shields during development. For a look at the development kit, check out the nRF52833 DK video brief here:
nRF52833 Software Support
The nRF52833 is backed by Bluetooth 5.1 qualified protocol stacks in form of the S140 and S113 SoftDevices from Nordic Semiconductor. The S140 is an advanced stack that supports 20 concurrent links in all roles and includes all the optional Bluetooth 5 features such as 2 Mbps transfer, Long Range, Advertising Extensions and improved coexistence with Channel Selection Algorithm #2.

Additional support in terms of peripheral drivers, examples and libraries needed to get started with Bluetooth Low Energy development is provided by the fresh v16.0.0 release of the nRF5 SDK. New versions of the nRF5 SDK for Mesh, and the nRF5 SDK for Thread and Zigbee development that include support for the nRF52833 are soon to be released.
Get your DK today and bring your applications to life on the nRF52833.