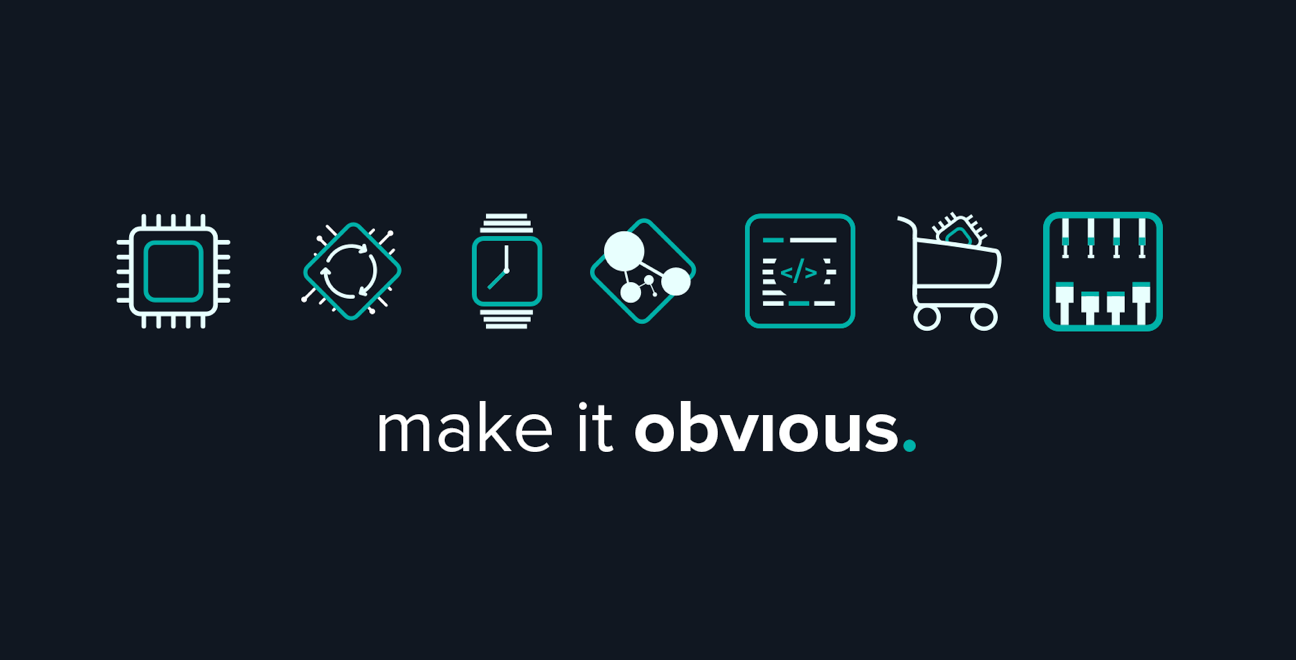 Nordic customers can now make the most of their product's spare computing capacity and open up new revenue streams with Obvious.
Simply put, Obvious is a device management platform and app store for embedded devices. It's designed so that low-power, wireless devices can leverage a full ecosystem of mobile and cloud tools. This makes including the likes of friction-free global payments, integrated licensing, fleet management and device metrics into a product much easier. The Obvious team has worked closely with Nordic every step of the way.
Following the release of the first long-term support edition of their platform earlier this year, we sat down with Obvious co-founder & managing director Ben Hilborn to find out more about the vision for the platform. Ben is an electrical engineer who has worked in product development for several other startups before turning his attention to Obvious.
First things first, what is Obvious?
We designed Obvious from the ground up to be the best product management platform for anything built on a Nordic chipset. The value comes in two ways.
Firstly, Obvious tools allows you to develop products faster and with more rigour, getting a quality product to the market as quickly as possible. Secondly, once the product has shipped, that's where we think things get really exciting. In addition to smart management of firmware updates, our platform offers in-app purchases to enable new functionality for hardware devices. Everything has been built with security at the centre.
Tell us more about the tools for the development process?
Our team has a long history of working with consumer electronics and Nordic devices, so we understand the challenges of managing firmware, and how it's often an afterthought. The platform is designed to let all types of companies, from Fortune 500 to emerging startups, to get their product to market quickly. It offers strong release procedures for firmware, so there's no more emailing over zip files to ensure the product gets shipped with the correct version.
We set out to build the easiest to use firmware update platform for Nordic devices, and we believe that's exactly what we've achieved. It really shouldn't be more difficult to update a product over-the-air than with just a few clicks. Flexible provisioning sequences let you add the ability to do over-the-air updates in those few clicks. All that's needed is a few details and parameters about your product, and the platform will build a correct library and boot loader.
We've also done the heavy lifting on the mobile side so you don't even have to have an app team to make your product updatable. But if you do, we provide libraries you can incorporate into your own solution.
What is the thought behind the hardware app store?
No professional electronics designer would design a product with a bare minimum specification, even if you're going for the lowest possible cost. There's always a little spare RAM, a little more flash memory, or perhaps you have a combo accelerometer-gyro but you're really only using the accelerometer. Based on the belief that there must be billions of devices out there with such spare computing capacity, we want to challenge manufacturers to consider what more their devices can do.
Built on a foundation of strong security, product management and over-the-air updates, we offer what I believe is the world's first in-app purchases for low-power hardware devices. This helps manufacturers create a more predictable, profitable revenue stream without having to constantly release new devices that are outdated within a year or two. When you sell hardware, you are losing a big proportion of that sale price to the distribution chain. Margins are slim. But when you're selling value-added features to people who already own your product, the margins are much higher.
A new product needs considerable finances for marketing, user testing, trade shows and many more things that drive up the cost of acquisition of every sale. But when you already have that device out in the market, there is an ideal customer. Obvious gives you access to sell more to those existing customers.
In which application areas are you seeing the most demand for your platform?
Somewhat unexpectedly we have seen demand from the healthcare space. Developers have to go through so many hoops to certify a device, but at the diagnostics level there is huge demand for making one bit of hardware do multiple things. It's the control and management side of Obvious that turned out to be really useful in this area. The ability to regulate pushing out a firmware update and implement gating processes is useful for those building highly regulated devices.
There is a parallel here with Industrial IoT. Companies that need to certify products beyond the typical electronics certification, such as for hazardous locations, need a common design methodology so they can spin out hardware into multiple products. Industrial IoT companies are using Obvious to maintain distinction between product lines. They have the same or very similar firmware, but with different user interaction protocols on top.
Can you give us some specific product examples?
One of the sparks for creating Obvious was to solve an issue with heart rate monitors. A manufacturer created a product that did a lot of unique things compared to their competitors, but that drove up the cost to a point the market wouldn't bear. So the question was how could they sell that product for less, but still offer the best feature set?
By using Obvious, some of the advanced features were locked off from the initial sale, becoming purchasable in the app. By doing this, the company could cut the sale price of the initial device, knowing that a certain percentage of users would then buy the advanced features. When that happens, the company makes a much higher margin than if all the features were rolled into the product at the point of sale.
Why did you choose Nordic for your platform?
Our team all have a long history of working with Nordic hardware. Many of us chose Nordic originally simply because they are the best at supporting their customers. Just look at the quantity and quality of example projects, and the amount of interaction on the DevZone. I believe Nordic supports its customers better than any other Bluetooth chipset manufacturer out there. That's the kind of company we want to work with.
What does the future hold?
In the short-term we will continue supporting Nordic's software development kits for Bluetooth Low Energy across all nRF52 Series devices. This support covers any products built with the bare IC or nRF52-based modules from 3rd party vendors. Beta compatibility for the nRF9160 is available now, and full NCS integration, including support for the nRF53, will be released at Embedded World in February. Also in progress on the roadmap is integration with nRF Connect for Cloud.
If you use nRF Connect for Cloud as a configuration and data tracking tool, you'll be able to connect that to your Obvious account. Obvious is leveraging the Device API to deliver the right firmware update to the right device, at the right time. As long as a device is registered in nRF Connect for Cloud, Obvious will automatically import it, at which point you can add it to deployment groups, manage release timelines and permissions, and see in detail how your update is rolling out.
You can find out more at obvious.xyz