Reinventing retail in the connectivity age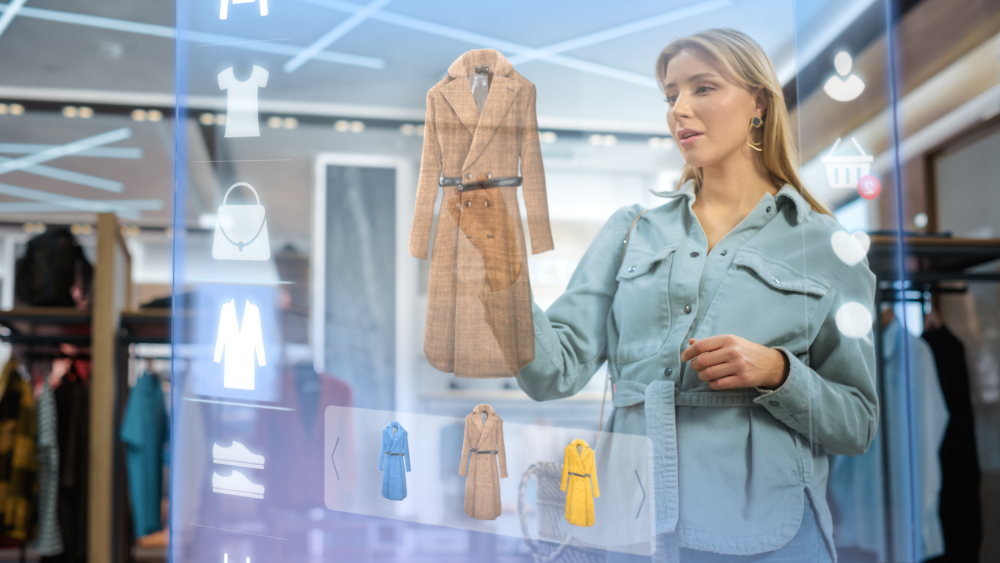 Sitting more than a kilometer below the antenna that tops the Burj Khalifa, Dubai Mall in the United Arab Emirates is an impressive edifice. The world's largest shopping mall boasts more than 1,200 stores spread over four floors across more than half a million square meters. It's an unabashed monument to retail hedonism. Should you tire of shopping, it also offers an underwater zoo, ice rink, cinema complex, and more than 200 cafes and restaurants. Three years after it opened, it was the most visited building on the planet, attracting 54 million visitors in 2011.
It is proof – were proof needed – that bricks and mortar retail is alive and well. Despite the surge in e-commerce both before and during the pandemic, physical retail still dominates, with $4 trillion passing through U.S. cash registers alone each year. By comparison, online sales are around $1 trillion. Not that the future of retail is offline or online, it's both, but the key to success for physical retail in the digital age is to enhance the customer experience and maximize profits simultaneously. To do so, retailers are embracing wireless technology like never before.
Connectivity across the retail value chain
In the first instance, this has meant tracking goods across the entire retail value chain in near real-time, from production to warehouse to customer. Access to this data helps retailers get products to the consumer faster and mitigates losses due to damage, spoilage, misplacement, or theft.
For example, wireless sensors, connected networks, location services, and machine learning (ML) are now commonplace in warehouses to improve the visibility of items that must be picked and shipped for just-in-time delivery to the customer or store. In transit, Bluetooth LE-powered devices with thermocouples and accelerometers can be placed in refrigerated and fragile cargoes to monitor and record temperatures and impacts.
These solutions can ensure cold chain deliveries remain within temperature tolerances and allow rapid remedial action if they aren't. When paired with cellular IoT technology, data can be sent directly to the cloud, allowing remote monitoring without needing a smartphone or gateway and enabling a more holistic view of an entire supply chain through web-based logistics platforms.
Digital connectivity
Shops themselves are also turning digital as retailers increasingly respond to the demands of today's tech-savvy consumer and their smartphones. If you have ever consulted your smartphone in a store to compare pricing, check the specific details of a product, or read reviews, you are in good company. We all do, and in the case of pricing, retailers know that if you find the same item cheaper online or anywhere else, they've probably lost a sale. Dynamic pricing allows retailers to adjust pricing based on stock levels, demand, and market conditions. Previously that meant laboriously changing price labels, but wireless technology has eliminated the labor required to do so and made the process near instantaneous.
Smart shelf labeling systems enable retailers to automatically update individual shelf price labels from a central point across multiple stores and branches—or in certain geographic locations—at the touch of a button. Comprised of a cloud platform, gateways, and Bluetooth LE-powered shelf labels, pricing commands can be sent wirelessly from a web-based dashboard to store-located gateways, from which point commands are relayed to the smart labels using Bluetooth connectivity.
The smart labels can also be used as beacons for marketing to consumers in close proximity via compatible smartphone apps and for reporting back to the gateway and the cloud platform, allowing retailers to remotely monitor and manage their stock and the precise positioning of products on store shelves. The technology is garnering interest at the apex of the retail food chain, with U.S. retail giant Walmart entering an agreement to roll out 60 million digital shelf labels across 500 locations over the next 12 to 18 months, leveraging the Bluetooth Special Interest Group's (SIG) new standard for ESL.
Wireless tech is also helping keep shelves full. Rather than relying on an army of stackers to constantly monitor shelf inventory, tech-savvy retailers are now deploying Wi-Fi-connected shelf cameras and cellular IoT-based remote monitoring to ensure shelves and products remain well stocked. Combined with cloud-based AI models to identify space, staff can focus on replenishing shelves only when required.
Connected maintenance and monitoring
Beyond pricing, stock management, and customer engagement, wireless technologies are now deployed for safety and maintenance monitoring across retail settings beyond pricing, stock management, and customer engagement. A faulty or broken refrigerator in a supermarket could result in thousands of dollars of spoiled stock, or worse, cause a foodborne illness in a customer that could result in a hefty fine and reputational damage. Wireless IoT solutions can mitigate against such risks by automating previously manual temperature measurements and providing an early warning system in the event of food inventory spoilage, or for example, notifying a retailer if a chiller or freezer requires maintenance.
One of the most promising communication infrastructures that can be leveraged for maintenance and monitoring is Thread, where IPv6 sensors can be added to create a mesh network to collect data from different parts of a shop. Every mains-powered device in a Thread network extends its coverage and resilience by forming the mesh topology, and it's designed to support low-power devices such as battery-powered and sensor-based retail applications.
Existing lighting infrastructure is the perfect conduit for introducing connectivity and sensors to a Thread or Bluetooth mesh network. Not only can it enable condition monitoring and predictive maintenance, but it can also be used to optimize HVAC and the lighting itself. Lighting infrastructure can host occupancy or presence sensors, adjusting lighting based on the number of people in parts of the store. The sensors can also be used to track the movement of people throughout the store, creating heatmaps to help retailers understand where customers spend the most time to optimize store layout.
Other wireless technologies suited to the retail environment range from the proven (Bluetooth Direction Finding enabling in-store wayfinding) to emerging (LE Audio and Auracast broadcast audio for one-to-one or counter-based assistive listening applications). What all the technologies share is their ability to deliver a win-win for both retailer and consumer, driving sales opportunities and providing value-added convenience.