Transforming warehouse management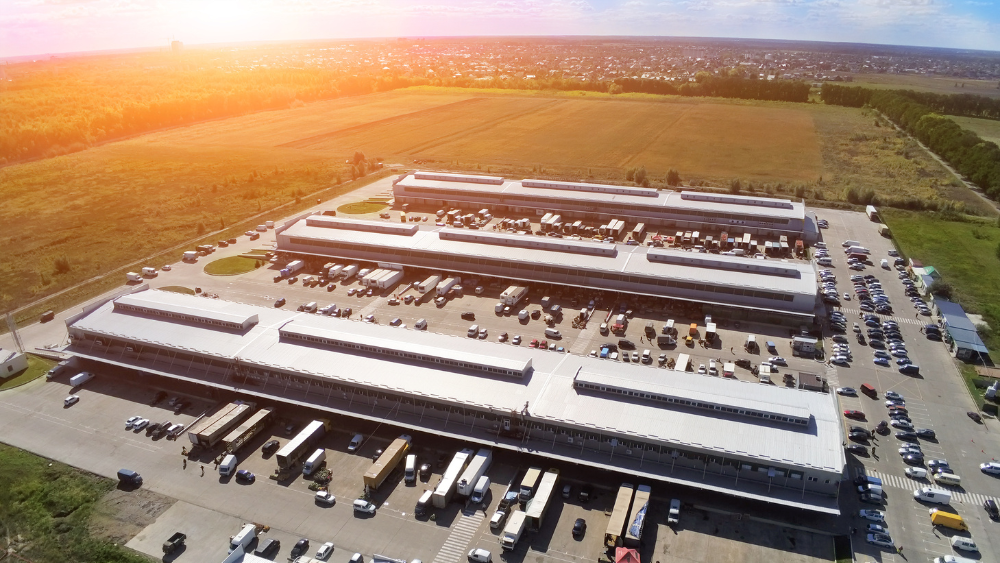 Warehouse inventory management can be complex enough on modest scales, but the exponential surge in online shopping triggered by the pandemic and continuing has made things much more challenging. Volumes of warehouse stock have gone through the roof – or at least right up to the rafters.
In 2020, the U.S. alone experienced e-commerce sales of $791.7 billion, a 32.4 percent increase on the previous year, according to data published by the U.S. Census Bureau. Online retailers' promises of tighter delivery schedules—from warehouse floor to customer door in as little as 48 hours—only make things harder. It's a new reality that demands even more precise asset management and just-in-time warehousing operations.
Together with the number of deliveries, the number of warehouses has also increased. They're getting bigger too. In 2020 there were 150,000 warehouses worldwide offering space of 2.32 billion square meters, says Warehouse Building Stock Database—a comprehensive assessment of the global warehouse industry—with this figure expected to climb to 3.07 billion square meters by 2025. For example, the average Amazon fulfillment center takes up over 74,000 square meters.
Inventory management challenges
Larger warehouses make it increasingly time-consuming for humans and machines to locate a specific unit. Without guidance, packages can be very hard to find and stored incorrectly, damaged, or even shipped to the wrong location.
In the worst case, staff can't locate an item, which leads to the purchase of unnecessary replacements, creating financial and environmental waste. Powerhouse AI estimates that inventory issues cost the economy a staggering $1.1 trillion yearly. Yet only 20 percent of warehouses use any form of automation, says analyst ResearchAndMarkets.
Keeping track outdoors…
The IoT can provide a platform for automation and promises to revolutionize logistics. Products such as Nordic's nRF9160 SiP, a cellular IoT solution, working with nRF Cloud Location Services, can track moving assets before they reach the warehouse and then on the way to the customer. The SiP uses GNSS when location precision is paramount and single-cell and multi-cell locationing for when the absolute position is not so critical but saving battery power is.
With the addition of the Nordic's nRF7002 companion IC, Wi-Fi locationing can be added for when GNSS coverage is patchy. The Wi-Fi IC checks the service set identifier (SSID) of nearby access points (APs) and the nRF9160 uses its cellular IoT connection to check-in with nRF Cloud. nRFCloud then checks a Wi-Fi AP database and reports back the location.
…and inside
In a large warehouse with a widespread Wi-Fi network, the nRF7002 can be used again with nRF Cloud Location Services to reveal the position of stored items relative to the warehouse APs. But greater accuracy can come from Bluetooth networks and Bluetooth beacons.
Network nodes and beacons can comprise a Real-Time Locationing System (RTLS) that can use various methods or combinations of methods (for example, Nordic Distance Toolbox (NDT), Bluetooth Direction Finding with Angle of Arrival (AoA) and Angle of Departure (AoD), and/or Ultra Wideband (UWB)) to support a very accurate and reliable RTLS.
NDT includes several phase-based algorithms to determine the distance between two Nordic Bluetooth LE devices. Bluetooth Direction Finding beacons use AoA technology to identify the location of tags on pallets and parcels precisely. UWB systems use Time-of-Flight of the RF signal to establish the exact distance between the beacon and the target tag. Beacons can be used to track packages and offer indoor navigation assistance for employees trying to locate a particular item.
NDT and Bluetooth Direction Finding is supported on Nordic Semiconductor's nRF5340, nRF52833, nRF52820, and nRF52811 SoCs. All Nordic Bluetooth LE SoCs also support received signal strength indication (RSSI), which can also be combined with AoA/AoD in positioning applications.
One successful implementation of this tech is the BlueIoT Bluetooth LE AoA positioning system that employs the nRF52833 SoC to provide sub-meter location accuracy for indoor use, including tracking in warehouses and factories – even in the case of non-line-of-sight applications. The nRF52833 SoC-powered tags can be placed in key locations throughout a facility, or attached to assets in a warehouse, enabling customers or staff to navigate their way to a specified location or item via an accompanying app.
Automating processes, saving space
Beyond locating items, other warehouse processes can be improved too. By using sensors to monitor heat, light and humidity, warehouse managers can ensure stock is not exposed to any potentially detrimental conditions. Weight sensors can be used as part of 'smart shelves', which can identify when a particular section is running low on stock and send a reminder to place a new order.
A compelling benefit that comes from introducing the IoT to solve problems, such as locating assets, are the insights that can be gleaned from the data generated by sensors. Sensor data related to the location and movement of products, and even the movement of workers and machinery, can help operators optimize operations.
By using machine learning (ML), operators can identify potential bottlenecks in the movement of goods and calculate more efficient routes for workers and machinery – supporting both productivity gains and reducing risk of collisions and accidents. ML can also use data on product retrieval frequency to optimize where products should be located for the most efficient storage and retrieval. Using precise beacon locationing, robots can then locate and remove one item from a pile of identical boxes without having to check each one individually.
For example, the AutoStore automated system, which uses robots to make selections from vertically stacked bins, is deployed by companies including Puma and Lufthansa to improve their warehouse management and save an estimated 75 percent of available warehouse space.
Making a busy job easier
The average warehouse can ship up to 200,000 boxes a day during a peak holiday season, which makes a warehouse manager's job of coordinating incoming and outgoing stock, reconciling orders in databases, and managing teams of warehouse staff a busy one.
Employing wireless tech in the form of cellular IoT, Wi-Fi, and Bluetooth LE enables warehouse management to constantly track movements in real-time via web-based warehouse management software running on tablet computers.
The result is that the IoT transforms inventory management and warehousing procedures one fulfillment at a time.