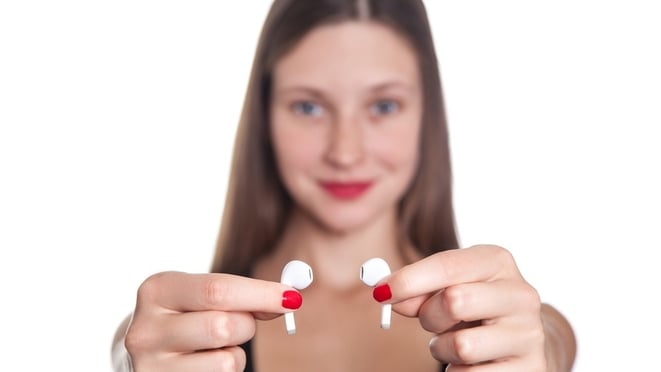 While Bluetooth headsets were the original wearable, in-ear technology has largely stood still since then. Until now. We take a look at some of the emerging contenders in the new market for hearables, which go way beyond music playback and seek to improve your workflow and your personal health.
2016 is the year that headphones became hearables, and wires began to vanish from our bodies. Add in smart features, fitness sensors, voice assistants and wireless technology to traditional earbuds, and you have a hearable.
As is normal for technology these days, it took an announcement from Apple to put the focus on the product area.
Apple's wireless future
The recent decision to remove the headphone jack on the iPhone 7 renewed interest in the Bluetooth earbud. However, in contrast to some of the emerging competition, Apple present very little new technology with the EarPods, which are essentially just wireless earbuds.
Here are some of the emerging contenders looking to capitalize on the increased interest in hearables.
Contextually aware earbuds
One of the most comprehensive products currently on the market is the premium-priced Bragi Dash. The earbuds offer storage for up to 1,000 songs to save the need for a connection to a smartphone, along with fitness and heart rate tracking and mic technology to make calls.
> Read also: Which technology should I choose to connect my wearable device to a phone
The development team focused on making Dash as contextually aware as current technology permits. In a recent interview, Bragi CEO Nikolaj Hviid said his vision for how man and machine will work together goes way beyond the capabilities of his current product:
"If I could take a pill with a swarm of small nanobots that would (have contextual understanding) and that would enhance me throughout the day, not medically but understanding my senses, that would be it."
Listen to the world around you
Here OneTM lets you "remix" the ambient sound around you. Or mix it with streaming BluetoothTM audio. The small wireless earbuds pair with a smartphone app and filters the sound you're hearing based on your chosen settings. You can amplify what you want to hear and remove what you don't, using Smart Noise Cancellation. Leave out the screaming baby or the noisy environment of an airplane. Or mix in the environment on your morning jog while playing your favourite music. Answer phone calls or access Siri or Google Now.
The obvious problem to anyone who's used older wireless speakers is one of sound delay. However, at just 30 millionths of a second, the latency is short enough for the human brain to perceive the sound as real-time.
Here OneTM is probably more attractive to the mass market than its predecessor Here Active ListeningTM which lacks the Bluetooth streaming and phone features. Battery life will most certainly be decisive for the sucsess of the earbuds that Dopler Labs calls the first all-in-one, truly wireless listening system.
> Read also: 6 wireless technologies for wearables
An in-ear personal trainer
Vi is an artificially-intelligent hearable that offers real-time coaching based on an individual's own physiology.
It raised $1.6 million on Kickstarter, but don't let the choice of fundraising platform fool you, Vi is no flash-in-the-pan startup. They have a partnership with American premium audio brand Harmon Kardon, and have previously worked with the likes of NASA, the US Air Force and Samsung on bio-sensing and AI technologies.
The buds will interpret data to deliver insights on your weight loss strategy and even running technique. While the list of compatible devices is yet to be confirmed, the earbuds look set to connect to Apple HealthKit, Google Fit, Fitbit and the fitness-based social network Strava.
In the labs
Widely reported leaks suggest that Google's Project Aura is developing two hearable devices: One utilizing bone conduction speaker technology and a sports model for tracking fitness. Meanwhile, a team at Microsoft is working on a voice-assistant technology codenamed Clip aimed at "busy women", thought to take the form of an earbud or a clip-on jewelry-like accessory.
As is usual for IoT, some nimble startups have launched to market first, but let's see what happens when Google and Microsoft move in. There's also some incredible developments being made with hearing aid technology, but that's a story for another day.