LPWANs bridge the IoT divide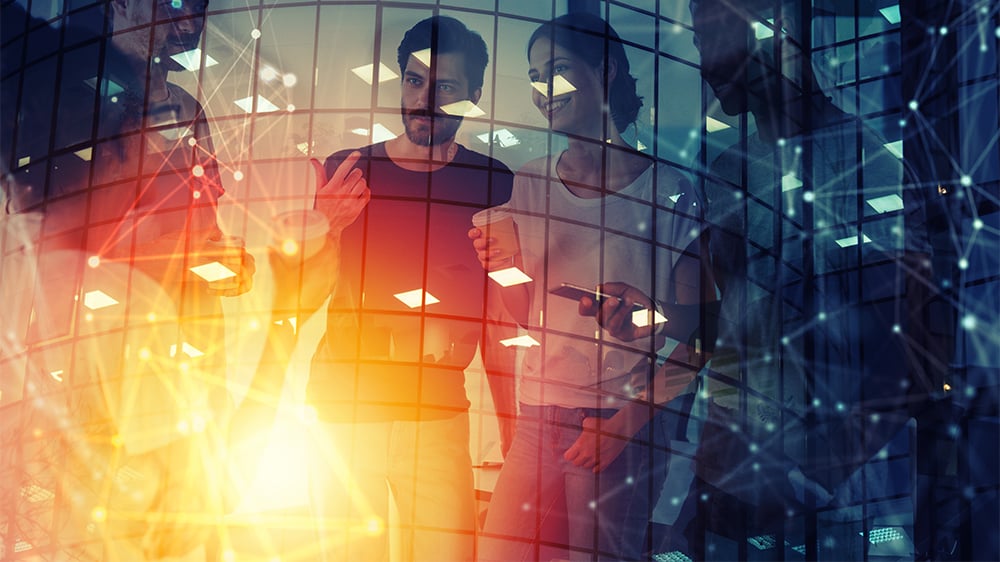 LPWANs underpin the IoT by offering efficient networks able to service a high connection density over a large area.
Low power wide area networks (LPWANs) are booming since they meet the needs for energy-friendly, cost-effective, long-range wireless connectivity between wireless local area networks (WLANs) and the Cloud. The technology is being used for logistics, asset tracking, smart metering, smart agriculture, remote healthcare monitoring, and worker health and safety monitoring, among others.
LPWANs are characterized by low power consumption (supporting years of battery life in connected devices) and 5 to 15-km range. LPWANs can support device throughputs of a few hundred kilobits per second – perfectly adequate to service most of the IoT's wireless sensors and actuators.
Competing LPWANs divide into those that use licensed spectrum allocations, such as cellular IoT (LTE-M and NB-IoT), and those that use unlicensed spectrum like LoRaWAN. Large commercial network operators manage the licensed spectrum. It benefits from global infrastructure, unmatched reliability, quality of service, and high security. The essential advantage of the unlicensed spectrum alternatives is no charge for transmitted data.
Read More: Infographic: What is PAN, BAN, WAN and LPWAN?
Network connections surge
Latest research by several leading industry analysts suggests LPWAN will be the fastest growing type of IoT connectivity this decade. IoT Analytics, for example, predicts the total number of LPWAN connections will surge from 14 million in 2017 to more than 1.15 billion in 2023 - a compound annual growth rate (CAGR) of 109 percent. Statista forecasts worldwide LTE-M and NB-IoT connections will grow from 3.86 million and 27.42 million in 2018 to 132.75 and 739.8 million, respectively, by 2023.
Meanwhile, between the various LPWAN technologies available across licensed and unlicensed spectrums, the overall LPWAN market will surpass $65 billion by 2025, according to analyst Global Market Insights.
From a geographical perspective, Asia and North America are expected to hold the largest shares of the global LPWAN market. The latter accounted for a market share of 40 percent in 2020 and should continue to dominate through 2027 (says Global Market Insights).
Drivers for growth
Key drivers of LPWAN growth include the evolution of smart manufacturing and increasing demand for smart cities. Emerging markets like precision farming—relying on sensor-based devices communicating cost-effectively over a long range—rise in prominence.
Analyst ABI Research says that critical factors driving the growth of LPWANs are the growing diversity of applications and the demand for easy-to-deploy and easy-to-scale solutions to support those applications. At the same time, as cellular operators continue to invest in upgrading their networks, reliability and coverage are improving.
Deployment and scalability are aided by cellular IoT device interoperability ensured by the specifications for LTE-M and NB-IoT. These specifications were introduced by the 3GPP (a standards organization that develops protocols for mobile communications) in 2016. Promoters of LPWANs using unlicensed spectrum are also pushing standards bodies to recognize their technologies as de facto standards to encourage take-up by more OEMs. DECT-20220 New Radio standard is the first unlicensed spectrum standard approved by ITU as a 5G standard, thanks to its prospects for mMTC and URLLC use cases that can further drive LPWAN deployments.
There is also a growing market for LPWANs solutions that combine cellular IoT and unlicensed spectrum standards in a single device to leverage the advantages of each technology. One application example is smart meters, where utilities want the flexibility to access either cellular IoT or a local, private infrastructure through a single end-product variant.
Read More: Hybrid LPWAN connectivity solutions driving smart meter roll-out
The hot application
According to analyst firm ABI Research, asset tracking is one of the highest-growth segments driving LPWANs, with a forecast expansion of 51 percent per year to 2024. LPWANs ideally suit the sector's requirements, enabling the periodic position update (and perhaps other information such as cargo condition and product health) over long distances, yet with long battery life. Advanced cellular IoT asset trackers are changing the face of the asset tracking sector. The Nordic-powered Yabby Edge Cellular, which can last up to ten years between charges, and SODAQ TRACK SOLAR, which can operate using self-harvested solar power, are illustrative examples.
Read more: Cellular IoT asset tracking applications gain momentum
Cloud management support for location services and over-the-air firmware updates for asset tracking are growing too. Nordic Semiconductor, for example, has just launched its own Cloud services to support customers deploying products using the company's cellular IoT technology.
The global adoption of cellular IoT LPWANs is unprecedented. The GSMA (an organization for mobile network operators) hosts a map of the globe on its website illustrating countries that have deployed either LTE-M or NB-IoT networks, or both. Except for Africa, the inhabited continents show widespread coverage, an incredible advancement for a technology that didn't exist just a decade ago.