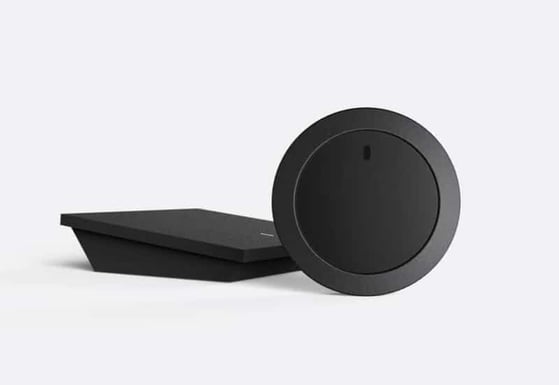 In a technological landscape where interconnected things are designed to be controlled with smartphone or tablet apps, Senic have created a natural way to interface with IoT devices in your home.
The multi-function Bluetooth Low Energy based Nuimo Control is a stylish universal remote that puts design and analog human interaction at its center. The remote provides a simple but precise way to interact with Sonos wireless sound systems and Philips Hue smart lighting, all while keeping your phone in your pocket.
A classic startup story
Back in 2015, three guys that were living together in an apartment in Berlin discussed how the the smartphone is quickly becoming an extension of the human.
Having such technology at our fingertips has no doubt given us a lot of flexibility and convenience. However, the guys believed that smartphones had become a hinderenace to human contact in some social settings. They saw untapped potential in the market to enable everyone to control smart home appliances, lighting, music and so on without letting their screens steal focus away from social interaction. Or as Senic today states: "Our mission is to create seamless smart home experiences that put humans back at the center".
Encouraged by friends who liked the idea, they decided to move forward with the project. One highly successful Kickstarter campaign later and the wheels were spinning fast. The success of the startup hinged on delivering the thousands of promised Nuimos in a timely manner. But as the prototype had yet to be finalized the company needed to ramp things up quickly.
The team of engineers, designers, sales and marketing personnel quickly numbered 10 people but kept on working together on the product in that tiny apartment in Berlin. The team spent two years following an iterative design process, in which they evaluated different sizes, visual profiles, weights and materials. Equally challenging as the look and feel was landing the technical specifications. For example, which wireless protocol options would be a good fit and which sensors and digital components would bring their vision to life.
A worldwide success story based on Bluetooth Low Energy
Fast forward to today and the Nuimo Control and the Nuimo Hub are available for purchase around the globe. The Nuimo Control connects wirelessly to the Hub which acts as a bridge towards the lighting and speaker systems of Philips Hue and Sonos. Packed inside a beautiful design there are sensors to capture gestures and a Bluetooth Low Energy radio to relay information to the Hub.
The sophisticated controller contains an accelerometer used to wake up the device and an optical encoder used for a ring that dims the light or changes volume. The available touch sensors are used to change songs or the lighting, and to switch between light and music control. An LED matrix confirms the current setting.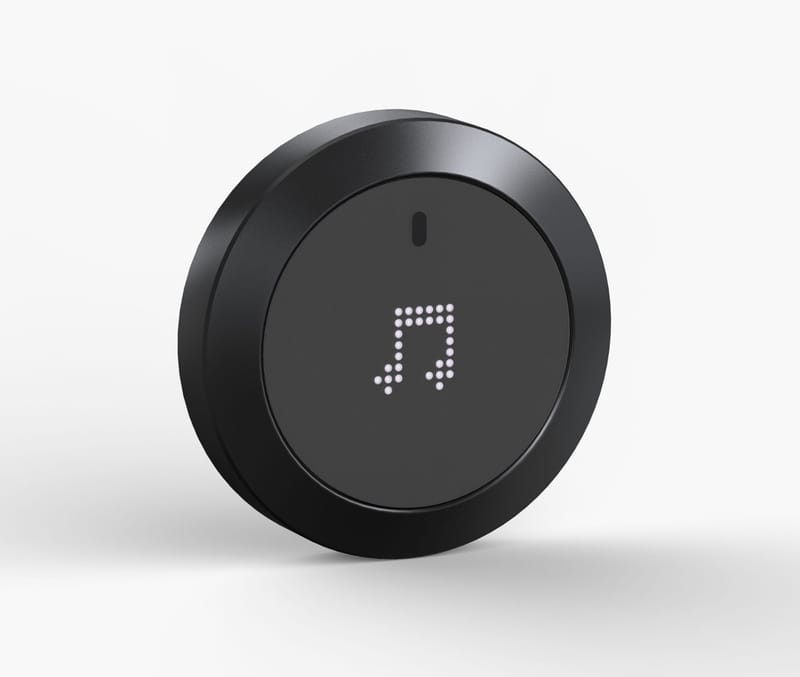 Senic chose Bluetooth Low Energy as the wireless protocol best suited to link the Nuimo Control and Hub due to its prevalence and power-optimization. Employing low power microcontrollers from Nordic Semiconductor's nRF51 and nRF52 series, the controller is able to process and wirelessly transfer all the required data from the sensors to the Hub while lasting two months on a single charge.
An exciting future for consumers and developers
But the Nuimo Control is not necessarily only for controlling Philips Hue or Sonos. Senic hope to officially support many other smart products in the future. If you are a developer that likes to tinker a little bit yourself, there is a Bluetooth Low Energy GATT profile (Generic Attribute Profile) defined for Nuimo.
The microcontroller on the device will transform the inputs given by human interaction to a GATT-based characteristic such as "left press", "swipe right" and so on. These messages can be transmitted over Bluetooth Low Energy and interpreted on the other side by any device that talks Bluetooth.
As such, it is possible to use the controller for much more diverse applications if desired. A fascinating example I heard from Senic CTO Philip Michaelides involves scientists at the Charité University Hospital in Berlin. They have made use of the analog interface to perform complex control of microscopes with nanometer precision.
Besides the Nuimo Control and Hub, Senic also make the Nuimo Click. These smart switches use energy harvesting technology that generates enough energy from each click to interact with the Nuimo Hub. You can connect one Nuimo Control and 10 Nuimo Clicks to each Hub. This means you can place these switches around your home to control music and lighting, without the need to route wires or change batteries.
The products can be found for purchase on the official website, on Amazon, or through Sonos. The Nuimo Control Starter Kit is available in a Try & Buy program with free 14 days return on www.senic.com, while the company have an email newsletter where new products will be announced.