Simplify Cellular IoT Prototyping With Nordic Thingy:91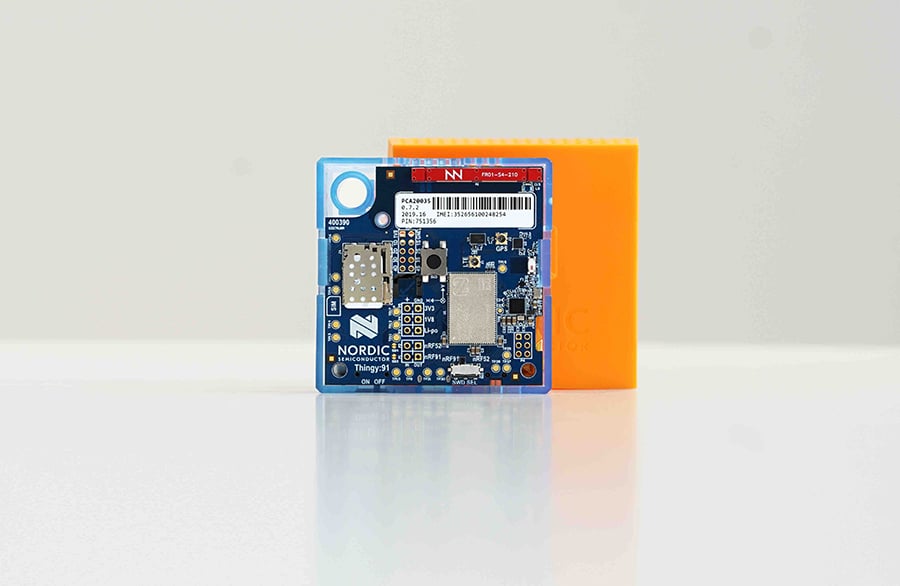 The new Nordic Thingy:91 is a rapid prototyping platform for cellular IoT that works out-of-the-box. The included GPS accurately measures real time position, making it a great PoC for asset tracking applications.
This is the year of cellular. Yet the technology is complex, something that may be putting off people testing it out and seeing what's possible. Following the success of the Nordic Thingy:52 in slashing prototyping times for Bluetooth Low Energy development, we are proud to present the Nordic Thingy:91.
If you want to test out LTE-M and NB-IoT but are hesitant about how to get started, this is the prototyping kit for you. To make it truly out of the box, every Thingy:91 comes complete with a roaming SIM that works in most parts of the world. It's even got 10MB of data use thrown in.
Why we made the Thingy:91
Most IoT projects are big and complex. They straddle the entire value chain of sensors, embedded, connectivity, cloud, analytics, and business insights. These are all complex areas in their own right and only the largest companies have expertise in all these areas. Many young startups have limited resources and simply can't compete with that.
Read more: 2019: The Year of Cellular IoT
The problem is that without building a working prototype to demonstrate the viability of your area, funding will be hard to come by. The core idea behind the Nordic Thingy:91 is for it to replace one or more of these elements in the value chain to test and prove your idea.
The embedded and connectivity areas are becoming even more complex and that's especially true with cellular. The Thingy:91 removes that complexity and best of all, it works from the moment you open the box. Now, let's take a look in more detail at what's inside.
What's in the box?
Many people were surprised at how compact the Thingy:52 was. The Thingy:91 is cut from the same cloth. All the brains are contained in a palm-sized 6cm x 6cm sturdy plastic box.
Based upon the nRF9160 System-in-Package, the device supports both LTE-M and NB-IoT standards and has GPS for positioning. It supports Bluetooth Low Energy through a nRF52840 multi-protocol SOC just like its predecessor, along with NFC. The included SIM from iBasis is ready to go in the box.
This isn't just about connectivity though. We want you to be able to do meaningful things with it, so it is packed with sensors. The Bosch BME680 sensor on board lets you keep an eye on temperature, humidity, air pressure & air quality. This facilitates many possible applications including home automation control, fitness monitoring or context awareness, e.g. room change detection. You could even make your own personalized weather station! It is also possible to measure color on the Thingy:91. Inspired by Amazon's one-push ordering buttons? There's a push button here too.
The LiPo battery has a capacity of 1,440 mAh, meaning you could potentially run the device for years depending on usage, but it's rechargeable, of course. Among its other uses, the built-in accelerometer will wake the device from sleep to help extend battery life.
As for outputs, there's a programmable RGB LED, an audible buzzer and high-current outputs that can be used to drive small motors or more powerful lights, for example.
On the software side of things, the nRF Connect SDK supports Thingy:91 and there are examples for all sensors and connectivity functionality included. By registering a user at www.nrfcloud.com and adding a new LTE device, it's a breeze to activate the accompanying iBasis SIM card and associate the Thingy:91 to Nordic's nRF Connect for Cloud solution.
Here you can track live data sent from the Thingy:91, receive alerts in real time, and use the nRF Connect for Cloud Device API to begin prototyping all aspects of your application.
Use-cases for Nordic Thingy:91
With such a range of features, the potential use-cases for the Nordic Thingy:91 really are only limited by your imagination. We know many people will order a Thingy knowing exactly what they want to test. For those that don't, and are just curious about exploring the capability of cellular IoT, we've included a sophisticated asset tracking application. This shows the potential of combining cellular communication with GPS positioning.
We'll be coming back to this topic in the coming weeks, so stay tuned. Don't forget to subscribe to the Get Connected Blog to make sure you don't miss out.
We're excited to see what ideas you come up with. What will you make?