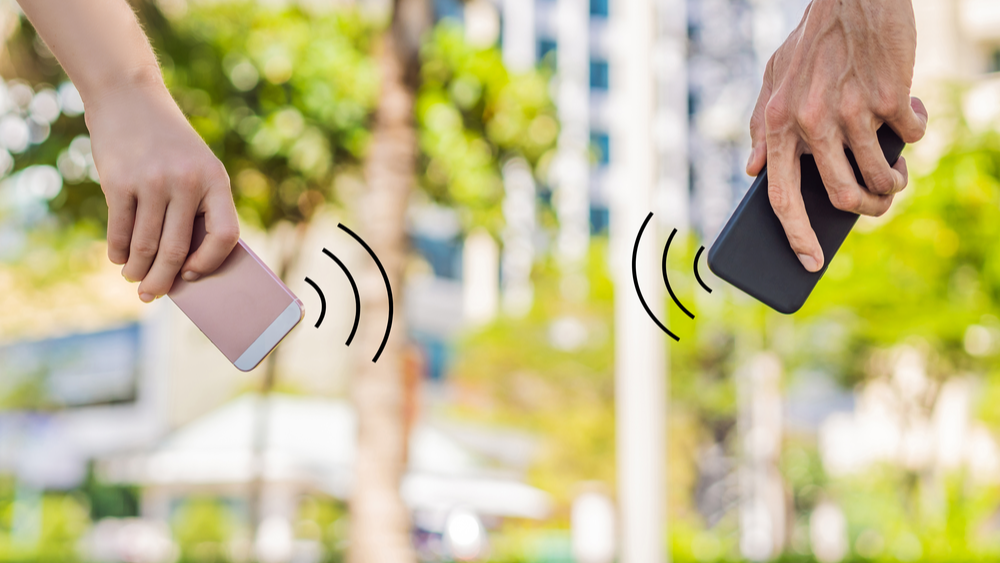 With vaccination numbers increasing and the pandemic starting to decline, wireless contact tracing looks to adapt to new applications.
Despite good progress in fighting the SARS-CoV-2 virus, the pandemic will be with us for a long time yet, and contact tracing using Bluetooth LE will remain a vital weapon.
Read more: Technology takes the fight to coronavirus
At its most fundamental, contact tracing works by providing the population with wireless wearables capable of detecting and recording the proximity of similar wearables. As a result, if an infection breaks out, there is a clear record of those who were in close contact during the infectious period. This can limit any further spread and allow those infected with the virus to self-isolate, ideally before becoming infectious to others.
Contact tracing remains vital for fighting the virus
For example, Oslo-based company, Forkbeard Technologies, has just developed EY's Proximity Monitor – a Bluetooth LE wearable tag aimed at automating contact tracing at specific events. It can be worn as a wristband, on a lanyard, or downloaded as an app. The tag provides proximity data for use in both person-to-person and person-to-location interactions.
Due to the low power consumption of the Nordic nRF52811 SoC, a coin cell battery can power the tag for up to three months. In addition, the data can be sent to an Internet dashboard (through a smartphone app or Nordic-powered gateway) for analysis and to classify the distance between individuals as low, medium, or high risk.
With us for the long haul
According to the Harvard medical school, contact tracing measures are likely to be in place for years to come. That view is endorsed by London-based American infectious disease epidemiologist and public health expert Dr. David Heymann. He predicts that we must expect some restrictions to continue when the pandemic damps down, and we learn to live with the virus and combat smaller, residual outbreaks. It seems wireless contact tracing will remain a highly effective weapon against COVID-19, alongside vaccination and isolation.
An example that points to this future is New York-based Omni-ID's Sense Shield which uses Nordic technology together with Finland-based Quuppa's Intelligent Location System and fellow Finnish company Wirepas' mesh technology. Sense Shield is a contact tracing device used as a vital part of a U.K. government-endorsed trial examining possible ways for spectators to return safely to sports venues after the pandemic. The trial took place at The Kia Oval—a large and world-renowned cricket ground in London—and included 2,000 spectators.
Contact tracing technology will also remain ready to be deployed against future viruses. According to scientists Gibb, Redding, Chin, and others, the next zoonotic virus could appear soon. In an article published in Nature, they point out that urban development and the subsequent habitat destruction heightens the risk of viral outbreaks moving from animals to humans. Using contact tracing, we could limit the spread of the virus right at the start of a pandemic, dramatically curbing the number of infections.
The technology beyond infection control
After a pandemic, however, the now proven technology of contact tracing has many other possible uses. For example, ensuring employee safety, time-keeping, and monitoring attendance or occupancy levels. Wirepas, for example, has introduced a Nordic-based system integrated into hard hats to track an employee's location and record any impacts upon the helmet while on site. The hard hats connect wirelessly via a mesh network using nodes across the worksite, with data then forwarded to the Cloud.
As well as protecting the safety of the employees, the WakeCap Analysis Platform (available as a website or smartphone app) provides the management a tool to compare timing and staffing constraints with the intended project plan timeline to maximize productivity.
Read more: Connected construction sites enhance productivity
Another example of contact tracing beyond the pandemic is Tag360-ID, from Bengaluru, India-based TagBox. The product can certainly operate as a pandemic contact tracing device. Still, TagBox sees the Tag360-ID's future as a "wearable identification card" for real-time location tracking of on-site personnel such as employees, facility visitors, or contract staff. The company says the device will prove particularly useful for ensuring the safety of staff entering and working in indoor and outdoor hazardous environments and restricted zones.
Read more: The IoT is the new normal
The privacy question
One of the significant concerns with data-gathering technology is that personal information may be used for other purposes without the user's consent.
However, most contact tracing product manufacturers understand the need for privacy and keep most of the data anonymous wherever possible. Besides, using Nordic technology, end-product suppliers can make sure the link between transmitter and receiver is secure. All of Nordic's nRF53 and nRF52 Series SoCs include AES encryption, and the higher-end devices – such as the nRF5340 and nRF52840 – feature on-chip Arm CryptoCell cryptographic security modules.
In addition, since COVID-19 changed everything, there is evidence that people might be prepared to give up some privacy to protect themselves and others. "If the payoff is large enough, people will trade some loss of privacy for greater freedom from lockdown and better safety at work [through contact tracing], " says Jakub Krzych of Estimote, a Bluetooth location services company.
Read more: COVID-19 battle inspires rethink on IoT privacy
It seems that whatever its final guise, contact tracing is here to stay, and Nordic's technology makes it all possible.