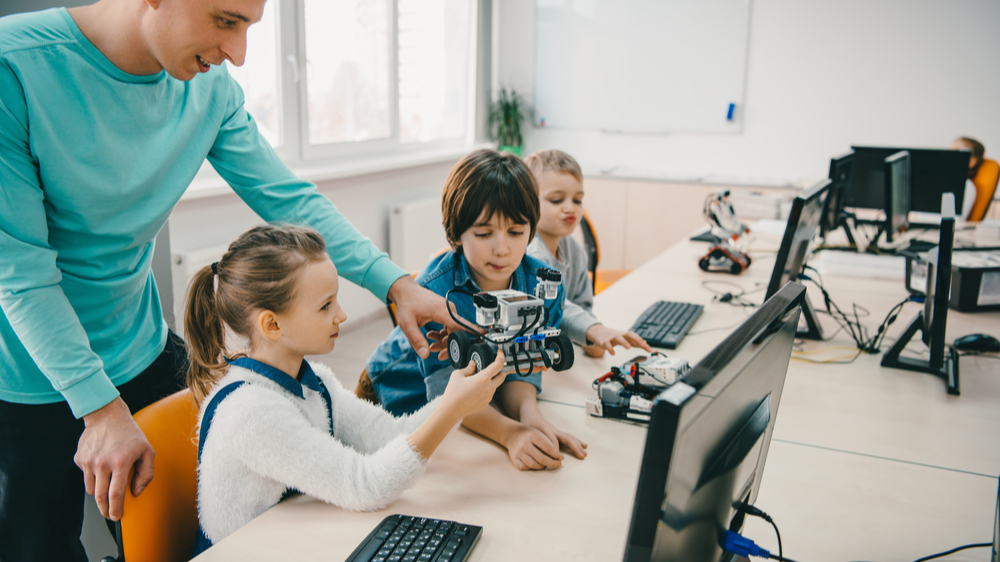 Continued global economic growth requires a productive, innovative workforce comprising highly skilled coders, developers, and engineers in every field. To prepare young people for this future, teachers turn to interactive and interdisciplinary science, technology, engineering, the arts, and mathematics ('STEAM') education. By focusing on developing STEAM skills, these educators ensure that new generations of digital pioneers will thrive in their ICT- and computer science-based careers. What's more, they ensure a foundation of effective communication, problem-solving, critical thinking, and creativity, upon which new professionals will perform their duties.
A technical and soft skills shortage
But recognizing the great importance of STEAM skills in the workforce is only the first step. For industries to continue evolving, they will need sufficient numbers of qualified people with the right knowledge, skills, and experience to solve complex and varied challenges.
Research by the U.S. Bureau of Labor Statistics (BLS) suggests that jobs requiring STEAM skills are growing "much faster" than any other profession in the country. According to BLS forecasts, positions available in these fields are likely to increase by 17 percent between 2014 and 2024, compared to the national average of 5-to-8 percent across all job sectors.
Unfortunately, the current demand for skilled staff far outweighs supply. A 2016 study by consultant McKinsey revealed that 60 percent of employers across nine countries believed that new graduates were not adequately prepared for the world of work. Cited as major contributing factors were lack of STEAM subject degrees and shortages in both technical skills and soft skills (such as communication and teamwork).
STEAM education with wireless tools
Wireless tech-based educational devices and their associated smartphone apps could prove to be a boost for the future job market. These tools are designed to help educators build STEAM education into everyday learning environments and subsequently engage children's interests by connecting abstract ideas to real-world situations.
In particular, tools supported by low power wireless technologies such as Bluetooth LE and cellular IoT are gaining significant traction with educators and experts driving STEAM-powered education.
For example, the Nordic SoC-powered BBC micro:bit is a tiny yet powerful programmable pocket computer already helping an estimated 20 million children—with millions more to follow—learn digital problem-solving skills.
Read more: Inspiring 100,000 More Kids Into Technology
At the heart of the micro:bit is a Nordic Bluetooth LE SoC. Code written by the students runs on the SoC's Arm Cortex processor. The chip's Bluetooth LE connectivity allows micro:bits to communicate with each other or a Bluetooth-enabled smartphone or tablet. There are currently 4.5 million micro:bits in circulation globally.
The rise of educational smart robots
When it comes to helping children develop invaluable STEAM skills, educational smart robots with built-in sensors will play a big part. These devices encourage kids to actively enjoy coding, programming, and development as they build their practical skills.
Examples include Nordic-powered solutions like the Sphero RVR programmable and customizable robot and the Makeblock mTiny screen-free smart education robot platform.
Another example, the "Harry Potter" Kano Coding Kit, features a Bluetooth LE DIY 'magic' wand wirelessly connected to an app where users can access coding challenges and creations.
While these solutions offer their unique STEAM education benefits, each enables flexible, interactive, user-friendly wireless coding made possible by smartphone interoperable Bluetooth LE connectivity. The wireless functionality is no afterthought, either, as this typically helps engage young learners in new and exciting ways when stacked against traditional education tools.
According to Jeff Wiencrot, Director of Firmware & Hardware at Sphero, STEAM educators see the value of robotics, as students work in teams to creatively solve problems and demonstrate solutions through the robot. Wiencroft says that robots bring code to life more than any computer program and help support themes and topics that are currently being taught in the classroom.
Tech and education working together
"It's really important that children learn to create and solve problems using technology," says Gareth Stockdale, CEO of the not-for-profit Micro:bit Educational Foundation. "If we can provide the developers and engineers of the future the tools to follow their passion, then it's a future we can look forward to."
Read more: Creating Coders of the Future
These words ring true not only for the groundbreaking micro:bit device but for all existing and emerging wireless solutions in the connected education space. With the fields of technology and STEAM education working closely together, the global economy outlook seems more promising.