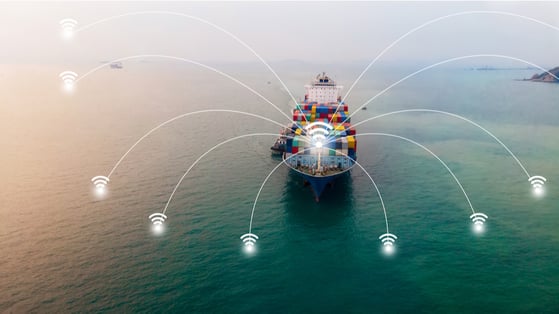 Carrying more than 90 percent of the world's goods—cargo worth an estimated $14 trillion each year—shipping containers are as essential to global logistics as ships, trains, and trucks. Keeping track of these ubiquitous steel boxes to ensure they and their contents reach their destination is a significant undertaking, with an estimated 65 million containers in circulation.
On the whole, it's a remarkably efficient process, but with $32 billion worth of sea cargo lost, damaged, or stolen each year, there is room for improvement.
Harnessing technology
Predictably the logistics sector has looked to technology for a solution. Barcodes and QR codes are the simplest way to determine the last known whereabouts of a parcel or pallet—likewise, RFID-based tags. But unless the tags are battery-powered and supported by gateway infrastructure to relay the data to the cloud, they are no better than a barcode for actively tracking freight movement through the supply chain in real-time.
Even active RFID tags can only tell you where your pallet or parcel is, not if, for example, it's been dropped, knocked, or been subject to water ingress or temperature variance, unless also deployed with the appropriate sensors.
Global Navigation Satellite System (GNSS) receivers can be paired with sensors and a long-range radio transceiver or cellular modem to enable live tracking of individual shipping containers via the cloud. These, however, are uneconomical and impractical at the particular parcel or even pallet level unless the value of the freight warrants it. GNSS receivers also require a direct line-of-sight to multiple satellites and consume enough power to demand bulky batteries – especially if the cells are needed to operate for between 30-45 days, as is the case of seabound freight moving between the east coast of the U.S. and Asia or Australia.
A better way
Cellular IoT, Bluetooth LE or a combination of both can complement GNSS to offer a more practical solution for tracking shipping containers and their contents in transit. LTE-M cellular IoT connectivity is ideal for this purpose because it employs the same cell handover functionality as regular LTE, allowing it to seamlessly operate across multiple regions as the shipping container moves through the supply chain. Low power devices such as Nordic Semiconductor's nRF9160 SiP—which integrates an LTE-M/NB-IoT modem and GNSS into a compact package—can track and monitor goods across cities, countries, and the globe without recourse to a gateway or additional infrastructure. Moreover, power-efficient cellular IoT solutions offer the battery life necessary to track a shipment from start to endpoint no matter how long the journey.
When teamed with multiprotocol SOCs powering Bluetooth LE-powered sensors, real-time, end-to-end supply chain tracking and monitoring of individual parcels, pallets, or containers becomes practical. The Bluetooth LE sensors enable movement, impact, orientation, and environmental data to be recorded at the individual pallet or package level, ensuring that any damage is attributed to and paid for by the responsible party.
A colossal problem
Such wireless tech also promises a connectivity solution to another massive logistical headache. At almost 200,000 deadweight tons and 400 meters in length, the world's most giant container ships dwarf even the largest naval vessels and can each carry 19,000 containers at full capacity. Ensuring each of these is loaded and unloaded most efficiently for their onward journey is essential for avoiding inflated storage fees and the costly and unnecessary stacking and restacking of containers.
Today, supply chains lack transparency in critical locations such as ports and will require increased visibility to better predict and prevent these 'inventory disturbances.' Sharing data and knowledge amongst multiple parties is fundamental for an agile flow of goods. Powerful wireless tech offering machine learning (ML) capabilities has the potential to provide the 'brains' and connectivity required to come up with the solution.
Today, wireless devices can transmit data about a consignment's whereabouts and ultimate destination, and this data can be used by cloud servers running ML to optimize the goods' movements. Authorities can access this information from a web interface. Tomorrow, wireless devices with powerful embedded processors capable of locally supporting ML could directly advise port authorities of the priority of their monitored cargo without recourse to the cloud.
Such information will allow workers to immediately prioritize which containers should be taken off a ship first (and therefore loaded last), as well as help third party logistics companies ensure drivers can seamlessly bring a shipping container to port and in the same trip collect another one for onward transport without undue delay. The system is far from perfect yet, but tech solutions are on the horizon.