Auracast broadcast audio transforms sound sharing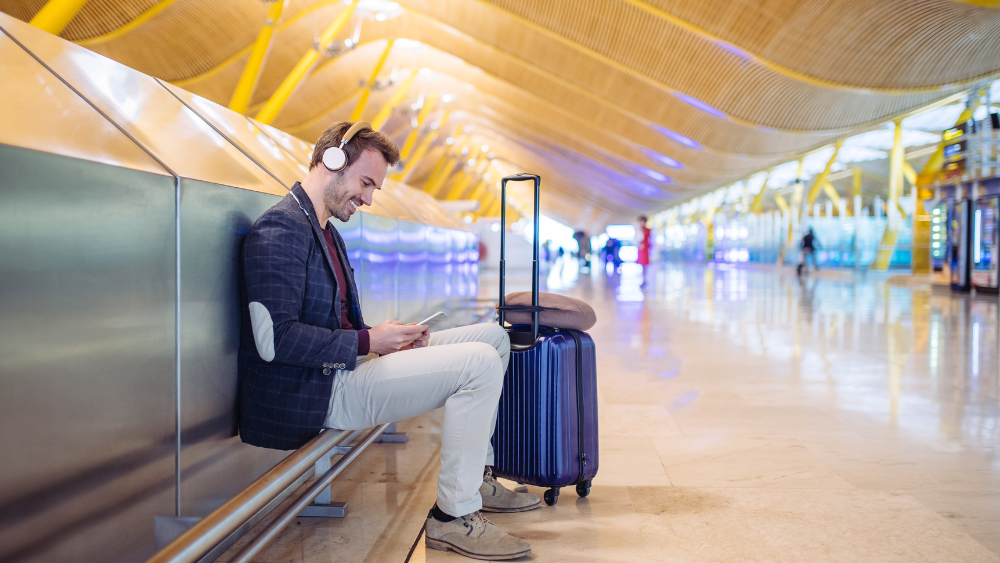 The latest Bluetooth development may not yet be on everyone's radar, but Auracast broadcast audio is set to revolutionize sound sharing.
By allowing an audio source device to broadcast to an unlimited number of receivers, this location-based broadcast application (with a user interface similar to Wi-Fi hotspots) could dramatically change how people consume content and interact with their environment. Better yet, Auracast will be viable across multiple end markets – from hearing-impaired support services through mass information systems to hospitality.
Next gen Bluetooth audio tech
Auracast broadcast audio is a key new capability enabled by the release of LE Audio – the new generation of Bluetooth audio technology created to complement Classic Audio with a high-quality audio streaming option. The introduction of LE Audio added new features which support superior sound, lower latency, reduced power consumption, and enhanced interoperability, plus ease the development of new audio device types.
LE Audio is primed to play an increasingly central role in how people listen to content and engage with their environment. A report compiled by analyst ABI Research on behalf of the Bluetooth Special Interest Group (SIG) forecasts three billion Bluetooth LE Audio-enabled devices will be shipped in 2027. That figure was 115.5 million in 2022.
Helping the world sound better with Auracast
Technically, Auracast defines a specific set of requirements that uses Bluetooth tech's Public Broadcast Profile (PBP) specification for a universal format and availability of a public broadcast.
In practical use, Auracast allows an audio source device like a smartphone, laptop, TV, public address (PA), or sound system to broadcast one or several audio streams to an unlimited number of Bluetooth audio receivers. The broadcast would use Bluetooth 5.2 specification's Isochronous Channels to transmit signals to things like headphones, True Wireless Stereo (TWS) earbuds, or more specialized audio products like hearing aids.
With ABI Research suggesting 57 percent of users plan to increase the time they spend using their audio devices, Auracast enables new market opportunities to attract consumers with both public and private broadcast use cases.
Tuning in anywhere with LE Audio
The Bluetooth SIG has identified five of these audio use cases. The primary promoted use case for Auracast is for it to become a high-quality, lower-cost augmented and assistive listening technology in venues where a PA or hearing loop infrastructure is currently deployed.
Thanks to its connectionless broadcast capabilities, LE Audio allows any number of users to effectively tune into various public audio streams using their own devices. Such a use case opens up wider accessibility for over 1.5 billion people (nearly 20 percent of the global population) suffering with hearing loss. This is a group the World Health Organization (WHO) anticipates will grow to 2.5 billion by 2050.
Auracast can also enable multi-language audio streams in locations that support simultaneous translation services. Users will be able to tune into a relevant stream for their preferred language.
A more niche use case enables people to join audio tours in venues such as museums, stadiums, and tourist attractions. Elsewhere, individuals could use their Auracast assistant and headset device to tune into the audio of a particular screen at a venue where televisions are installed, but no audio is provided, or where the audio is hard to hear. Longer term, one-to-one or counter-based assistive listening applications could emerge in retail and other service environments.
Getting started with Auracast
To bring such use cases to life and make the most of Auracast's potential, Bluetooth LE SoCs with plenty of processing power yet modest energy consumption are in demand. An ideal solution is Nordic Semiconductor's nRF5340 SoC, which incorporates two processor cores—one a dedicated application processor, the other a power optimized network processor—and an advanced feature set, provides the ideal combination of performance and energy use to meet the demands of LE Audio and advanced 'hearable' applications.
Nordic's nRF5340 Audio DK supports all Auracast features and incorporates everything developers need to embark on LE Audio projects. The Development Kit is configurable and can function as a USB dongle to send or receive audio data from a PC, a business headset, or a TWS Earbud.
The future of hearing
Soon, everyone will be able to seamlessly use their own devices to experience ground-breaking Auracast technology. Public venues like auditoriums, lecture halls, cinemas, theaters, and transit centers will add support for Auracast broadcast audio to existing sound systems, bringing audio clarity to people wherever they go. And it won't be long before locations like sports bars, gymnasiums, restaurants, and waiting areas add support for Auracast to their silent TVs, allowing visitors to unmute screens if they so wish.
Picture an airport terminal, where even in the best circumstances, boarding and gate announcements can be difficult to hear. Now airports will be able to add support for Auracast to their existing sound system so visitors can hear high-quality public address audio in their Bluetooth earbuds or hearing aids. And air travelers could select the Auracast broadcast for their specific terminal, filtering out unnecessary announcements.
A market on the move
All signs point to the Auracast broadcast audio market making a massive impact this decade. According to ABI Research, by 2030 there will be nearly 2.5 million Auracast deployments across venues such as libraries, social or meeting venues, recreational facilities, entertainment and culture, and airports and transportation hubs. Public assembly use cases will account for nearly 42 percent of those deployments. Silent TV screens, assistive listening, and multi-language support applications are expected to become increasingly prevalent over time.
As the market develops and the installed base of Auracast devices grows, new use cases are likely to emerge. The world is about to open its ears like never before.