Building better asset trackers for monitoring fragile shipments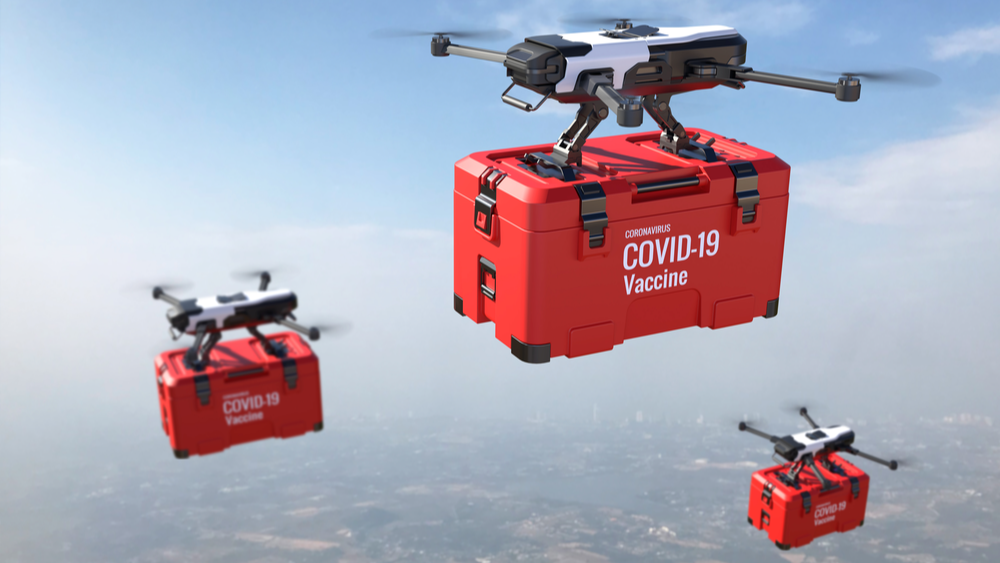 Bluetooth LE can be used to report on the condition of fragile cargoes, while cellular IoT can forward that data to the Cloud wherever there's telecoms infrastructure.
Supply chain and logistics systems are essential to rapidly and securely deliver valuable items to their destinations. However, freight getting damaged on its journey is expected, primarily due to poor handling, incorrect packaging, exposure to harsh environmental conditions, and physical impacts. And, when that cargo is extremely fragile and valuable—like glass vials storing COVID-19 vaccine—any damage could cost not only a lot of money but lives too.
Moonshot-sized challenge
To protect the world's health against SARS-CoV-2, the virus that causes COVID-19, tens of billions of delicate vaccine doses are needed to immunize populations. The task of transporting the vaccines to every corner of the globe is now underway.
But the challenge is enormous; moving vaccines is made even more complex because they don't travel well. Besides the vials' fragility, vaccines must be stored and shipped at low temperatures (for example -20˚C for the Moderna product and -70˚C for Pfizer). If either vaccine experiences higher temperatures, even if quickly frozen again, it can become ineffective.
Read more: Protecting COVID-19 vaccines
Logistics companies rely on wireless
Logistics companies turn to wireless tracking solutions and sensors to ensure that fragile items arrive on time and are carefully observed throughout the trip. For instance, when transporting vaccines, Bluetooth LE wireless devices (with thermocouples and accelerometers) can be placed in cold boxes and refrigerated containers to monitor and record temperatures and impacts.
One example is Shinyei Technology's TempView GT002-T-DF temperature logging unit. The device uses Nordic's Bluetooth LE technology to improve the reliability of vaccine transportation by monitoring and reporting vaccine temperature during storage and delivery. The solution is being used in Japan for the rollout of the Moderna vaccine.
Combining Bluetooth LE and cellular IoT
An essential part of these wireless solutions for vaccine transport is Bluetooth LE tech's smartphone connectivity, which allows the user to monitor sensor data from a mobile app. In addition, information recorded during the delivery's entire trip from drug maker to healthcare provider can be downloaded to the smartphone (or another gateway device) and, from there, transferred onto the Cloud.
Cellular IoT LPWAN connectivity supports the kilometer range, reliability, high quality of service (QoS), scalability, and security needed to forward the Bluetooth LE sensor data to the Cloud. The gateway device incorporates a Bluetooth LE SoC, which communicates with the local monitoring network and relays the aggregated data to the cellular IoT device. To keep cost and maintenance low, logistics companies typically use one gateway to service multiple sensors.
Watch our free webinar: How nRF9160 enables cellular IoT asset tracking
Prototyping platforms point the way
Designing a cargo monitoring product that combines Bluetooth LE and cellular IoT wireless technologies is a challenging engineering task. However, rapid prototyping platforms such as Nordic Semiconductor's Nordic Thingy:91 considerably ease the task.
Read more: Simplify Cellular IoT Prototyping With Nordic Thingy:91
The Thingy:91 combines Nordic's cellular IoT solution, the nRF9160 low power SiP with GPS and integrated multimode LTE-M/NB-IoT modem, with the nRF52840 high-end Bluetooth LE SoC. The product includes sensors, and its cellular IoT communication can be combined with GPS positioning, making it perfect to precisely locate and monitor items in transit.
By combining cellular IoT and short-range wireless technologies, logistics companies can monitor the location and status of fragile cargoes like vaccines and other valuable shipments for their entire journey. That gives these cargoes a much greater chance of arriving safe and sound.