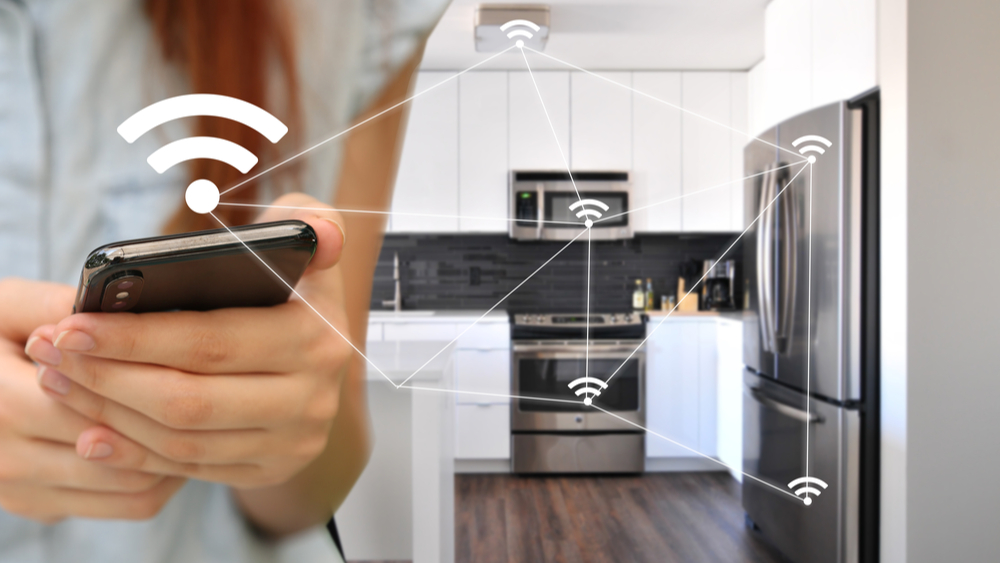 The kitchen has long been the heart of the home and the lifeblood of the food and hospitality sector. Now, as wireless technology gives rise to the smart kitchen, amateur and professional chefs are eschewing traditional cooking methods for time-saving and quality-enhancing contemporary operations.
Connected intelligent kitchens in smart homes
These days kitchen appliances like ovens and refrigerators that can be monitored and controlled from a smartphone app are relatively commonplace. But a truly 'smart' kitchen works by using wirelessly connected appliances that convey useful sensor data back in the other direction, supporting a chef in a pressure-cooker environment. This technology has the potential to automate certain tasks, while the precision of such devices offers a more accurate picture of the overall cooking process.
One of the most exciting advances in the smart kitchen market is the integration of machine learning (ML) into everyday appliances. The use of sensor technology, such as temperature monitoring and thermal imaging, can provide detailed information that is then interpreted using proprietary algorithms. Once enough data has been gathered, wireless cooking devices can adjust their procedures based on these findings to perfect cooking temperatures and times.
For instance, the cooking surfaces of pots and pans on a cooktop may not be perfectly uniform in temperature. With the help of thermal imaging or a temperature sensor, a digital platform might inform the chef of any hot or cold spots, while video monitoring and smart probes could help ensure the food is being adequately stirred and is cooking evenly.
Hands-free help for chefs in smart homes and kitchens
As more appliances include wireless capabilities, more tasks can be cleverly automated from a central system to provide a virtual cooking assistant. Linking smart appliances to an app-based cooking aid should enable superior hands-free control of the kitchen.
An algorithm might continuously calculate the appropriate cooking time and temperature for the meal being prepared based on sensor data. For example, a virtual aid could sense the humidity level in an oven is too high to create the desired crispy skin on a roast chicken, then adjust accordingly. And when the meat has finished cooking, it could automatically turn off the oven to prevent burning. Eventually, the user could have the entire kitchen working in unison, analyzing patterns and intuitively improving each task.
Self-monitoring cooktops in smart home kitchens
One currently available solution for the smart kitchen is Atag's ASKO Celsius°Cooking Cooktop – a range incorporating wirelessly connected induction hobs and smart induction cookware, including a pot, frying pan, and temperature probe. Both temperature and motion sensors are employed to monitor the status of the food and ensure nothing overheats or boils over.
Using Nordic nRF52832 SoC-enabled short-range connectivity, the system allows the user to monitor the temperature of cooking zones on the hob effectively and follow the state of interactive recipes from an associated smartphone app. In addition, by using Nordic's 2.4 GHz proprietary protocol and Bluetooth LE via timeslot sharing enabled by the SoC's concurrent protocol capabilities, an overhead cooker hood can be automatically activated and wirelessly managed from the hob controls.
Reimagining the humble kettle in a smart home kitchen
Another wireless solution in this market is BrandBrandNew's smart liquid heater, Heatle, which comprises a base and an immersed heating rod, allowing the user to heat the liquid directly in its intended container. The user can set the desired temperature through the paired app. The temperature sensor in the rod then relays this information to the base and onto a smartphone, which will notify the user when heating is complete.
Heatle uses an energy-harvesting system in its heating rod, drawing energy from the magnetic field created by the mains-powered base. The process is supervised by the tiny Nordic nRF52805 WLCSP used in the disc.
Smart support for commercial kitchens
Beyond the home, commercial kitchens can also benefit from a shift to more connected cooking. Many restaurants and catering companies may well need to adapt, with the emergence of the 'cloud kitchen'—a shared facility purpose-built to produce delivery-optimized menu items available to the public through a centralized virtual space like a smartphone app—proving a key ingredient in the recipe to meet surging consumer demand for online food delivery services. The global Cloud kitchen market is expected to reach an estimated value of $112.5 billion by 2027, with a compound annual growth rate of 11.5 percent from 2022-2027 (according to a new report by analyst Research and Markets).
By allowing professional chefs to increase their multitasking, making it easier to produce larger quantities of food in shorter timeframes, smart kitchens can help alleviate the strain on commercial operations.
Moreover, the integration of ML won't apply exclusively to cooking; rather, the entire food production process could be enhanced, from monitoring and predicting demand via various ordering platforms to managing kitchen inventory and streamlining delivery.
As pressure builds to cater to a growing off-premises customer base, smarter commercial kitchens featuring advanced cooking solutions should mean better business practices and more lucrative food services. Meanwhile, in the consumer kitchen, millions of home chefs will be stepping up to the hot plate with more confidence than ever.