Wireless protocols working together for the smart home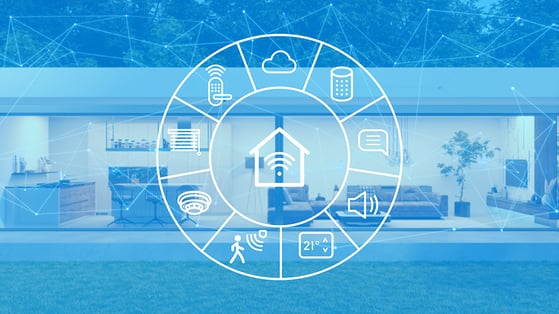 Evidently, a single wireless protocol will not reign over a widely adopted smart home sector. By combining the powers of leading protocols, innovative OEMs and technology companies can develop wireless products and services that "just work."

The global smart home vision involves various technologies such as smart lighting, smart thermostats, smart door locks, and smart audio systems communicating seamlessly to make life better for millions of consumers worldwide.
But to make this vision a reality, smart home solutions must continue to evolve. The keys to unlocking the future are:
Greater collaboration across the entire industry
Significantly reduced complexity and interoperability between wireless devices and platforms, including home hubs from various ecosystem suppliers like Amazon, Apple, and Google
Willingness to take full advantage of the unique benefits that different wireless protocols concurrently offer advanced smart home applications
Combined benefits of Bluetooth LE and Thread
Evidently, a single wireless protocol will not reign over a widely adopted smart home sector. Quite the opposite; by combining the powers of leading protocols, innovative OEMs and technology companies can enjoy the far greater scope to develop wireless products and services that "just work," thereby penetrating an increasingly competitive smart home market.
Every mainstream protocol brings something valuable to the table. For example, Thread (an IPv6 standards-based mesh networking protocol with no single point of failure) appears to be a pre-eminent smart home protocol. Yet, Bluetooth LE—primarily developed for peer-to-peer consumer applications—will continue providing the essential smartphone connectivity that allows easy deployment of the next wave of smart home innovations.
We can't underestimate this convenience, as lack of simplicity for the end-user has so far proved a significant obstacle to expected smart-home growth.
Bluetooth LE and Thread are increasingly being used together as complementary protocols enabling and enhancing a range of smart home technologies. Users can count on Bluetooth LE connectivity to commission and configure devices efficiently to a Thread-based network using their smartphone. Then, low-power, low-bandwidth operation is possible thanks to the inclusion of Thread.
The low-power Thread network devices form a robust mesh, unpinning extended range without additional infrastructure. Moreover, Thread enables end-to-end encrypted communication between individual devices and the cloud.
Collaboration makes a difference
Industry stakeholders working closely together can accelerate smart home adoption. A collaborative known as Matter attempts to create usable and relevant standards driven by the joint forces of ecosystems, device manufacturers, and technology providers.
The Connectivity Standards Alliance (CSA), a global, open-standards organization for low-power wireless technology, leads the collaboration, with a long-term ambition to achieve true smart-home interoperability for the masses.
Read more: Key collaboration fast-tracks smart home vision
The alliance is creating a universal application protocol capable of delivering end-to-end cloud connectivity and enhanced security and privacy between a wireless device and another device, app, or service. This protocol will be built on top of the mature Transmission Control Protocol (TCP) and User Datagram Protocol (UDP), as well as the mature Internet Protocol (IPv6) and other lower-layer protocols – including Bluetooth LE and Thread.
In the case of Matter, compatible products need to support both the Bluetooth LE and Thread wireless protocols concurrently. The former enables secure onboarding/commissioning of a device using a smartphone or tablet; the latter relays data once the device connects to the network.
Read more: Project Connected Home Over IP (Project CHIP) becomes Matter
Smart LED bulb runs over Matter
One example of intelligent home interoperability in action is the A19 Tunable White Bulb developed by LEEDARSON, a Xiamen, China-based IoT technology company and a board member of CSA. The smart LED bulb is designed to replace a conventional bulb, enabling users to wirelessly control indoor lighting in a smart home or commercial building. Any compatible connected device can be used as well as voice control via a smart home ecosystem such as Amazon's Alexa, Apple's Siri, or Google's Assistant.
Read more: Apple releases HomeKit with Thread networking protocol
According to Kellen Yang, Global VP of Sales & Marketing at LEEDARSON, the smart LED bulb is commissioned via a smartphone app over Bluetooth LE, once screwed into a compatible fixture. It runs over Matter to achieve interoperable communication and work seamlessly with smart devices, mobile apps, and cloud services from other global tech brands.
Nordic's dynamic multiprotocol contribution
Since Matter runs on Thread network layers and uses Bluetooth LE for commissioning, Nordic's multiprotocol nRF52840 SoC is a good choice for the A19 Tunable White Bulb based on the new connectivity protocol. LEEDARSON selected the nRF52840 for the smart LED bulb primarily due to the chip's support for Matter - enabling seamless interoperability with third-party devices, apps, and smart home ecosystems, says Yang. Nordic's nRF52840 and nRF5340 low-power advanced multiprotocol SoCs enable application, Thread stack (OpenThread), and Bluetooth LE stack (including a Zephyr Host and Nordic SoftDevice Controller) to run on the same 64MHz, 32-bit Arm Cortex M4 processor with FPU. As a CSA member, Nordic has integrated Matter with its nRF Connect SDK, including certified Bluetooth LE and Thread protocol stacks and the Zephyr real-time operating system (RTOS).
With initiatives like Matter and chip makers like Nordic helping developers create better products, we are edging closer to widespread adoption of the smart home.