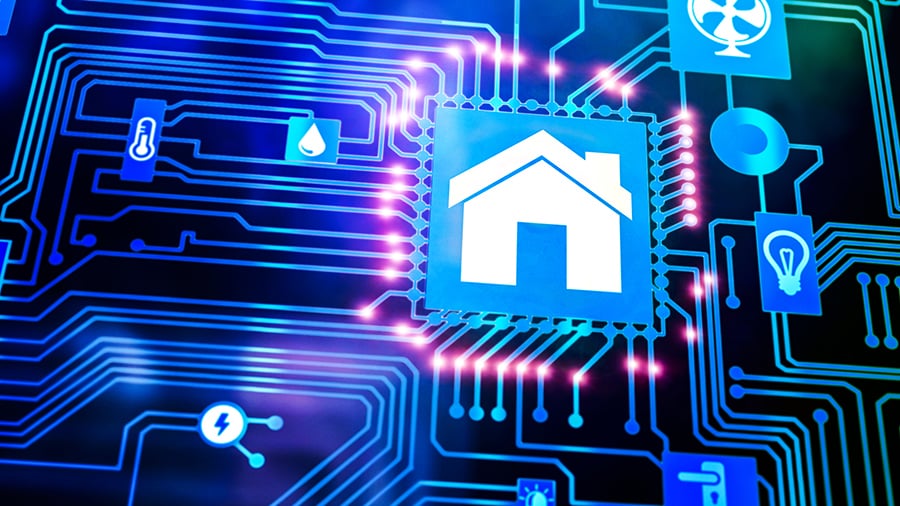 The well-kept secret is out of the bag: Connected Home over IP (CHIP) promises interoperability for smart home devices. We take a look at what this means for Nordic customers and other embedded developers.
Many heads were turned when CHIP was revealed to both IoT developers and the masses just before Christmas last year in press releases from Apple, Amazon, Google and the Zigbee Alliance.
Solving the smart home interoperability problem
While the promise of the smart home has been pushed for years, the reality is that a highly fragmented market has struggled to hit the mainstream. There's an expectation among non-techie consumers that one smart home device will talk to another—and inevitable disappointment when the truth hits home.
Hopefully, the CHIP project will be the catalyst to finally match expectation with reality.
Read more: Smart Home Connectivity Options
Consumers have a lot to look forward to with CHIP, but so do product developers. A simpler development process, a wider market, and an easier process to market the final product are just some of the benefits in store. The working group has a goal to release a draft specification and a preliminary reference open source implementation in late 2020.
What exactly is CHIP: Connected Home Over IP?
The goal of the Connected Home over IP project, a working group within the Zigbee alliance, is to simplify development for manufacturers and increase interoperability among devices for consumers.
"The project is built around a shared belief that smart home devices should be secure, reliable, and seamless to use. By building upon Internet Protocol (IP), the project aims to enable communication across smart home devices, mobile apps, and cloud services and to define a specific set of IP-based networking technologies for device certification," states the press release from the Zigbee Alliance.
CHIP runs on top of the IP layer. Wi-Fi, Thread and Bluetooth LE will be in focus first, followed by other IP bearing protocols such as Ethernet and cellular. The aim is to create a universal application/higher layer protocol on top of the unchanged IP and lower layer protocols, that enables interoperability between devices, platforms and ecosystems.

In practice, the project intends to leverage development work and protocols from existing platforms that are currently competing with one another. This includes key technologies from Amazon's Alexa Smart Home, Google's Weave, Apple's HomeKit and the Zigbee Alliance's Dotdot specification. Thus, many of the big players in smart home tech, which is what makes this project so compelling, and so surprising.
A boost for Thread and Bluetooth LE smart home developers
The first CHIP release looks set to support both Thread at 2.4 GHz and IP implementations for Bluetooth Low Energy.
Read more: An Introduction to Thread
That's great news for low power developers and especially Nordic customers. Our entire range of SoCs that support Thread and Bluetooth LE will be compatible with the new standards, and we have comprehensive market-proven software development kits (SDKs) for Thread, Bluetooth LE and HomeKit. So when the specification is ready, Nordic's customers will be in a very good position to support the upcoming standard.
However, perhaps the biggest benefit with CHIP for our customers is the removal of the need to develop for multiple versions of the application to support different ecosystems and lower-layer protocols. With CHIP, only one generic application that interfaces with the CHIP application layer needs to be developed. CHIP can also reduce the number of product stock keeping units (SKUs) smart home manufactures must maintain, with branding, logistics and so on. Today, a door lock manufacturer has to make one SKU for each ecosystem. With CHIP, the intention is that the door look manufacturer only has to make one SKU.
It's especially helpful for developers using Thread. Up until today, there haven't been many market adopted application layers on top of Thread. The CHIP initiative will open up the market for our customers looking to connect products and be compatible with many ecosystems.
The next steps
Everyone at Nordic is excited about the potential of CHIP. Are we involved? Of course!
Nordic is part of the new CHIP working group within the Zigbee Alliance, so you can be sure of compatibility going forward. The CHIP working group is open to anyone if you feel that you want to contribute or just follow the work from the inside. Join the Zigbee Alliance and help form the future of the smart home.