Wi-Fi's increasingly important role in the smart home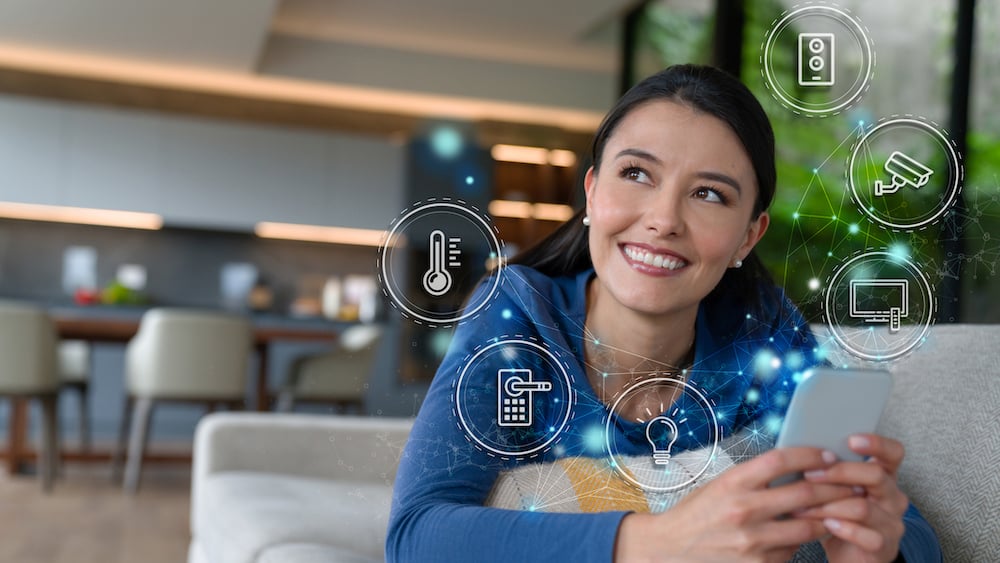 Wi-Fi 6 has made the popular wireless technology better suited to the IoT, forming a key part of the Matter standard and making it a foundation of the smart home.
Matter promises to bring interoperability to smart home ecosystems and is based on Thread for low-power wireless connectivity, with Wi-Fi used when greater throughput is needed and more power is available. (The Ethernet wired standard is also included in Matter, cellular IoT will be added in the future and Bluetooth LE is used for commissioning.)
Together with the other protocols used for Matter, Wi-Fi can support Internet Protocol (IP). IP is essentially a network layer communication standard for rapidly moving data across the Internet. The advantages of this are clear – every supported device has its own IP address, and interoperability with the protocol makes it very easy to connect each smart-home product to the Cloud. With this flexibility, smart-home applications can be very powerful and flexible.
With smart homes, one size doesn't fit all
Consumers are already very familiar with Wi-Fi at home. It powers the domestic entertainment network that allows us to stream movies to our tablets no matter where we choose to sit in the house. During the pandemic it powered many home-office video conferences, and its seamless connectivity has extended the functionalities of home appliances such as TVs, washing machines and fridges. Wi-Fi is, without question, the most ubiquitous wireless tech on the planet.
But all wireless technologies feature trade-offs. And because Wi-Fi is primarily designed to offer high throughput, it tends to be power-hungry. Plugging a Wi-Fi access point into the mains and streaming content using the capacity of a portable computer battery solves the problem, but that hunger for energy does limit Wi-Fi's applications. It's not the best technology for a battery-powered light switch, for example. That needs only to send small amounts of data to switch the associated light on and off, while using a compact battery that last for months. For this and similar applications, low power wireless tech like Bluetooth Low Energy, Thread or Zigbee are better options than Wi-Fi.
Wi-Fi support for more home devices
Wi-Fi 6 has improved things by including power-saving technology that allows designers to trade-off some throughput for longer battery life. And, by using a multi-access modulation technique called OFDMA, each of Wi-Fi 6's 20 MHz channels can be split into hundreds of sub-channels - enabling it to support many more devices around the home concurrently. (Previously, using Wi-Fi to support multiple network devices generated congestion with a subsequent reduction in throughput.) While these enhancements still don't make Wi-Fi suitable for applications such as a wireless light switch, they do make it a good choice for smart-home appliances such as security cameras, smart thermostats, and smart speakers.
This new Wi-Fi tech is set to power a smart-home boom. According to Vantage Market Research, a smart-home sector worth $75 billion in 2021 will expand over five-and-a-half times by 2028. That's over $420 billion in sales per year. As part of that total, the shipments of Wi-Fi-based smart-home devices will grow at a compound annual growth rate of 21 percent between 2021 and 2025[1].
Making the smart home easy to use
Matter's backing by Amazon, Apple, Google, Nordic, Samsung and hundreds of other firms brings order to a previously fragmented smart-home sector. That will drive sales because consumers will be able to buy a smart device from any mainstream supplier and then easily get it to work with their preferred smart-home ecosystem. That suits the major suppliers eager to offer value-added smart-home services to consumers to multiply the revenues from device sales.
The choice of wireless technologies (and Ethernet) selected for Matter was carefully considered. Wi-Fi is established in hundreds of millions of homes across the world and Wi-Fi 6 makes it even better suited to smart-home applications. Thread is a low power wireless standard that seamlessly integrates with larger IP networks without the need of a gateway. And Bluetooth LE is interoperable with smartphones which form the ideal interface for commissioning and configuring the shiny new smart-home products.
Apart from its benefits for providing a high-throughput option for smart-home products, Wi-Fi underpins Matter's IP interoperability. The Matter application layer makes it simpler for Thread devices to communicate with a home Wi-Fi network and from there to the Cloud. And Matter devices using Wi-Fi for network transport won't need built-in support for mesh networking because Wi-Fi 6 range is such that a Matter device will always be able to connect. These non-mesh networking Matter devices can be more compact and use less power.
Getting started with smart-home Wi-Fi
Nordic is making it easier for developers to take advantage of Wi-Fi's increasingly important role in the smart home by introducing the nRF7002 Wi-Fi 6 companion IC and its associated development kit (DK). The IC is a low power Wi-Fi 6 device and provides seamless dual band (2.4 and 5 GHz) connectivity. The nRF7002 also offers excellent coexistence with Bluetooth LE, Thread and Zigbee radios and supports Wi-Fi 6's Target Wake Time (TWT), a key power saving feature. The DK makes it easy for developers to get started on nRF7002-based IoT projects. The DK also hosts an nRF5340 multiprotocol SoC which supports Thread and Bluetooth LE, making it suitable for development with all the Matter wireless technologies.
Today, the smart home is popular with tech-savvy early adopters but confusing for the mainstream market. But Matter heralds a new dawn for the connected home products and Wi-Fi will be fundamental to its success. The smart home finally looks set to fulfil its promise.
[1] "Smart Home Market Size USD 423.95 Billion by 2028", Vantage Market Research, https://aws.amazon.com/marketplace/pp/prodview-sq6upwbi35x2m#offers