Wi-Fi 6 brings battery-powered IoT to Wi-Fi, Nordic brings longest battery life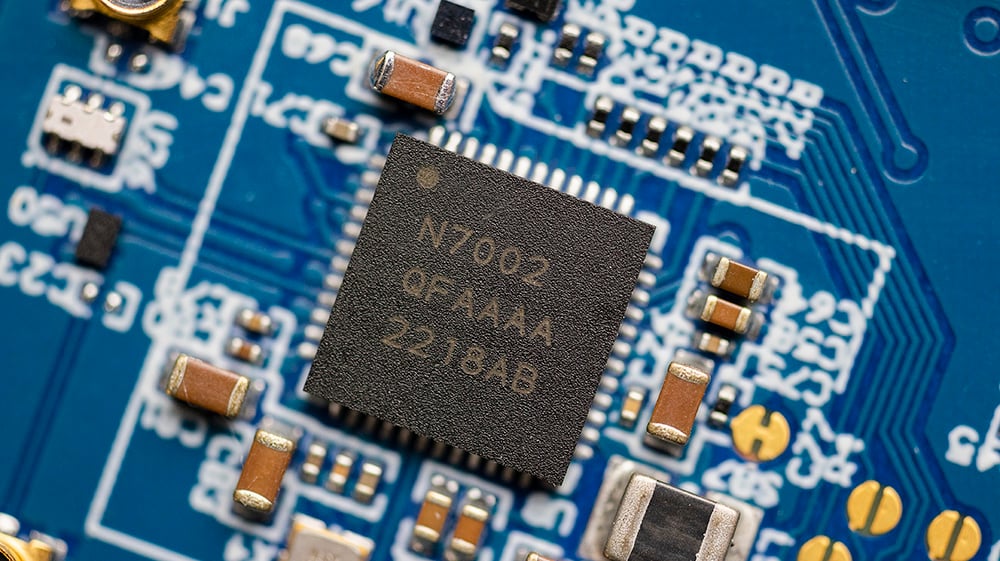 In mid-August this year, Nordic Semiconductor entered the Wi-Fi market with the launch of its dual-band Wi-Fi 6 nRF7002 companion IC (integrated circuit).
Wi-Fi connectivity is an obvious choice for IoT developers, particularly given its pervasiveness in the home and many consumer, business, and industrial environments. It's even widely available on airplanes.
The nRF7002 doesn't target established Wi-Fi applications like high speed streaming of Netflix movies around the home or always-on HD security cameras. What it targets instead is battery-powered Wi-Fi IoT applications enabled by the latest Wi-Fi 6 version of Wi-Fi.
A few examples include domestic and industrial IoT sensor networks for water leak detection or smoke alarms, smart speakers, event-triggered security cameras, home appliances, and robotic vacuum cleaners.
Wi-Fi also forms an integral part of the smart home Matter protocol championed by Apple, Amazon, Google, Samsung, and hundreds of other companies in consumer IoT. By adding Wi-Fi to its product range, Nordic will now support all three wireless protocols used in Matter. Namely: Bluetooth LE (used for commissioning), Thread (used for low-power mesh networking), and Wi-Fi (used for both high-speed wireless networking and low-power IoT sensors and devices).
Why Wi-Fi 6 is ideal for IoT
Wi-Fi has traditionally been one of the least power-efficient wireless protocols, limiting its application to use cases where minimizing power consumption was not the highest priority. But the introduction of Wi-Fi 6 brought a range of features that allowed Wi-Fi devices to be much more power efficient in communicating.
One example is a feature called 'Target Wake Time' (or 'TWT'). This allows Wi-Fi routers and IoT devices to schedule communications in advance to reduce time spent in unnecessary idle listening modes and thus power drain. It also means Wi-Fi IoT device radios can leverage one of wireless IoT's most proven ultra low power strategies: spend as much time in sleep mode as possible.
Wi-Fi 6 is also said to offer much better performance in congested wireless environments using a combination of higher channel bandwidth, more efficient signal transmissions, and multiple antennas.
How Nordic entered the Wi-Fi market
The launch of the nRF7002 follows Nordic's 2020 acquisition of the development team, core Wi-Fi expertise, and Wi-Fi IP tech assets of Imagination Technologies Group.
Furthermore, Nordic also set up a global Wi-Fi hub in India with the stated aim of making it a global center of R&D excellence in low-power Wi-Fi and related IoT wireless technologies that are second-to-none. As such Nordic has been rapidly recruiting Wi-Fi specialists across a range of engineering disciplines, including R&D, test & verification, security, low-power design, and interoperability. It also seeks to collaborate with local universities in India via student initiatives such as internship programs.
The strategy is a proven one that Nordic has successfully deployed in fields such as cellular IoT where Nordic's main R&D hub is located at a global cellular wireless technology 'hotspot' in Finland.
What to expect from the nRF7002
The nRF7002 is described as a 'companion IC' which means it is designed to provide seamless Wi-Fi connectivity and Wi-Fi-based locationing (SSID sniffing of local Wi-Fi hubs) when used alongside Nordic's existing products. These include the nRF52® and nRF53® Series multiprotocol Systems-on-Chip (SoCs), and nRF91® Series cellular IoT Systems-in-Package (SiPs). The nRF7002 can also be used with non-Nordic host devices to maximise application and networking flexibility and ease of use.
The nRF7002 is supplied in a 6 by 6 mm QFN package and is sampling now. Interested customers are advised to contact their local Nordic distributor or sales manager.
Wi-Fi and the Nordic nRF7002 will form a key part of the upcoming Nordic Tech Tour. Spanning 48 cities in North America and EMEA, the event will provide an inside view of Nordic's latest innovations across Bluetooth LE, cellular IoT, and Wi-Fi.
What Wi-Fi means for Nordic
With the nRF7002, Nordic Semiconductor brings decades of ultra-low-power wireless IoT and silicon design expertise to Wi-Fi 6, a standard that features efficiency gains that support long-life, battery-powered wireless IoT operation.
The idea of small battery-powered Wi-Fi is a relatively new concept in Wi-Fi, one that opens up this highly popular high-speed wireless networking protocol to a much wider range of consumer and industrial IoT applications.
But the demand for Wi-Fi connectivity in IoT is not academic; for some time, it has been the number one missing wireless technology requested by Nordic customers.
The launch makes Nordic Semiconductor one of the few companies in the world to offer all three of the world's most popular wireless IoT technologies: Bluetooth, Wi-Fi, and cellular IoT.
Nordic has also ensured that developing Nordic-based Wi-Fi 6 applications will be as simple as developing any other Nordic wireless IoT application, including using the same development tools and nRF Connect SDK. The nRF7002 is a great starting point and Nordic is well ahead in terms of building a portfolio of unique Wi-Fi products that will combine seamlessly with Nordic's existing ultra-low power wireless technologies.