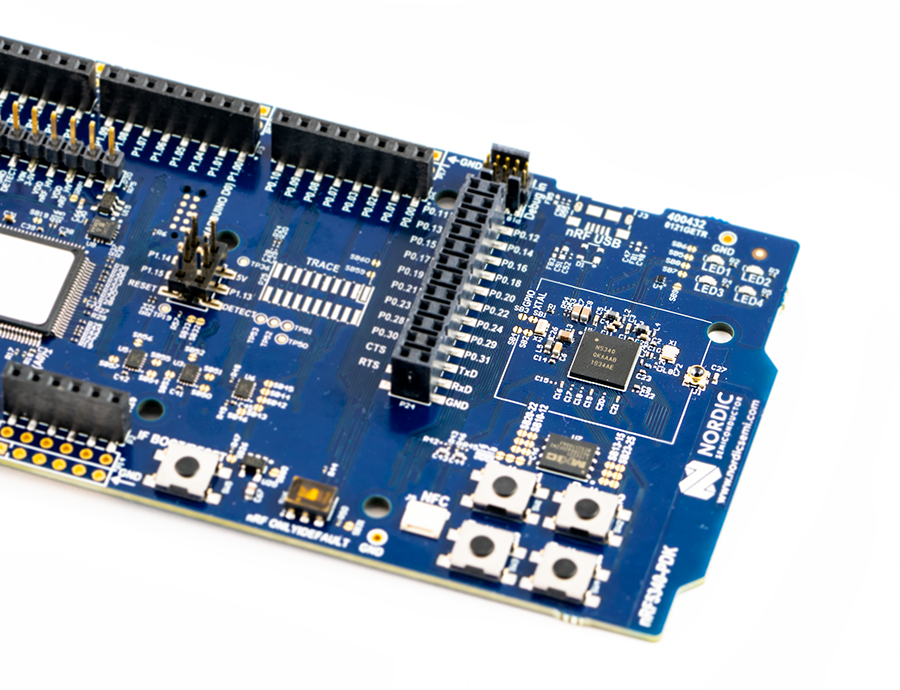 The latest dual-core SoC from Nordic Semiconductor supports Bluetooth 5.1, Bluetooth mesh, NFC, Thread & Zigbee. Let's take a closer look.
We're thrilled to announce the launch of the nRF5340, the new flagship in the Nordic SoC family. It is the world's first wireless System-on-Chip (SoC) with two Arm® Cortex®-M33 processors, offering unequalled performance and features in a low power device.
The nRF5340 is an all-in-one SoC, including a superset of the most prominent nRF52 Series features. They deliver performance, memory and integration, while minimizing current consumption.
The nRF5340 SoC has been designed from the ground up to be secure, whether you're taking advantage of the Bluetooth Low Energy, Bluetooth mesh, Thread or Zigbee connectivity options. Security features include trusted execution, root-of-trust and secure key storage.
Ideal for complex IoT
The combination of this security-by-design, dual-core flexibility, advanced feature set, and an operating temperature up to 105 °C, make it the ideal choice for a multitude of complex IoT applications.
Professional lighting applications can leverage the powerful dual-core architecture and concurrent Bluetooth LE and mesh protocol capability, even at higher temperatures. The 128 MHz application processor combined with a generous 512 KB RAM, coupled with a 32 MHz high-speed SPI for displays and fast sensors and a 96 MHz QSPI for connecting additional external memory, make the nRF5340 a perfect fit for advanced wearables.
Extensive wireless support
The nRF5340 supports more than enough wireless protocols to give you a range of options for your IoT project. Of course, it is capable of all the latest Bluetooth LE features, including long range features and all AoA and AoD direction finding roles.
If you're looking at developing a mesh-based project, protocols including Bluetooth mesh, Thread and Zigbee can be run concurrently with Bluetooth LE. This enables smartphones to provision, commission, configure and control mesh nodes. Other supported wireless protocols include NFC, ANT, 802.15.4 and 2.4 GHz proprietary.
Flexible yet powerful processors
The application processor can be clocked at either 128 or 64 MHz using voltage-frequency scaling. For high performance, choose 128 MHz, or choose to run more efficiently at 64 MHz. The application processor has 1 MB Flash, 512 KB RAM, a floating-point unit (FPU), an 8 KB 2-way associative cache and DSP instruction capabilities.
The network processor is clocked at 64 MHz and is optimized for low power and efficiency with 256 KB of Flash and 64 KB of RAM. It is fully programmable, which gives developers more options to design for efficiency.
Development offering for the nRF5340
Your development journey with the nRF5340 begins with the nRF Connect SDK. You may well already be familiar with the software development kit as it also supports the nRF9160, Nordic's LTE-M/NB-IoT/GPS SiP. This gives you a common platform to develop both cellular IoT and short-range solutions.
The nRF5340 PDK is the preview development kit for the nRF5340 SoC. It has everything needed for development on one affordable board. All features and GPIOs of the nRF5340 SoC are made available to the developer including powerful debugging tools.
The nRF5340 PDK is now available through our distribution network. For more information please visit our nRF5340 SoC and nRF5340 PDK product pages.