Using Amazon Sidewalk to improve wireless device performance indoors and beyond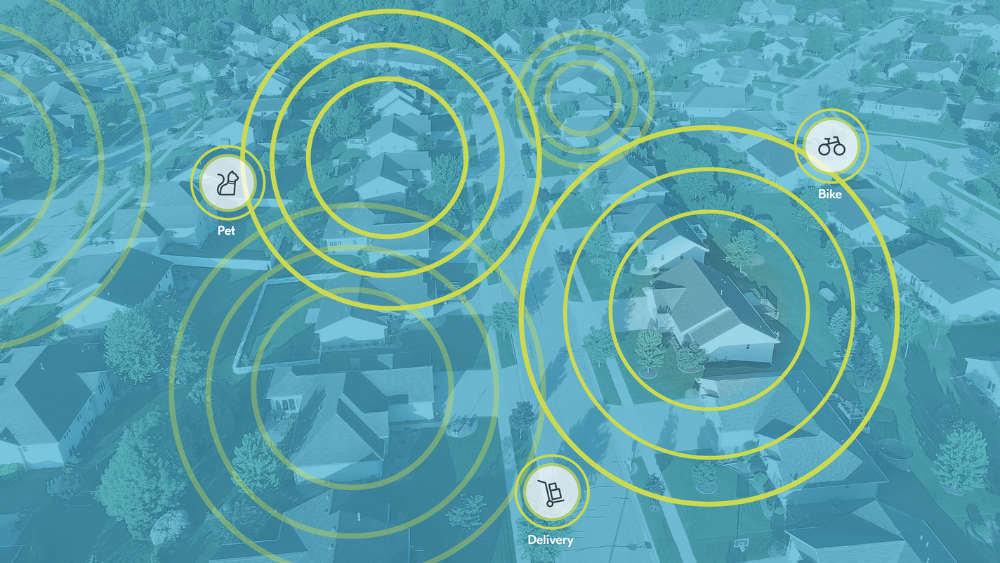 The smart home network continues to expand. Homeowners are now using wireless technology to operate the lights, window shades and HVAC, as well as entertain, manage energy consumption and make sure the house is secure. And this is just the start.
Technologies such as Bluetooth LE and Thread offer robust and reliable connectivity with decent range. Together with Wi-Fi, the wireless technologies form the foundation of Matter, a standard which is bringing harmony to the previously fragmented connected home market.
But there are times when consumers want a little more from the domestic network. For example, consider the family pet with her Bluetooth LE tracking collar. All is well as she sniffs around in the yard for lost toys, but what if boredom sets in and the four-legged friend decides to leap the fence and explore the rest of the neighborhood? She'll soon be out of range of the domestic Bluetooth LE network and on her own.
A free-to-connect community network
Amazon Sidewalk, which has recently been launched in the U.S., offers an answer. By combining Bluetooth LE and sub-GHz radio technologies, Amazon Sidewalk offers a free-to-connect wireless infrastructure that significantly extends the range of the home network.
Amazon Sidewalk over Bluetooth LE suits applications in the home and promises to improve wireless device performance by making it easier to connect Bluetooth LE devices to AWS (Amazon's Cloud computing service) while ensuring data privacy and enhancing security. Bluetooth LE also enables consumers to add Amazon Sidewalk devices to their network using their smartphones.
For operation beyond the home, Amazon Sidewalk uses sub-GHz radio technology because it offers longer range than 2.4 GHz technologies. Which is very useful for tracking escaped pets and other missing items. The trade-off for longer range is lower throughout.
You can think of the longer range version of Amazon Sidewalk as a 'community' network that sits between the Bluetooth LE/Wi-Fi home network and kilometer-plus range LPWANs such as cellular IoT. This community network provides greater neighborhood coverage than home Wi-Fi alone and connects all Amazon Sidewalk devices to AWS - without incurring the data costs associated with cellular connection.
Based on Echo and Ring
Amazon Sidewalk is based on devices such as the company's Echo smart speakers and Ring security cameras. And it brings extra value to the huge installed base of these products. According to tech publication GeekWire, over 20 million U.S. households own an Echo, while about 8 million U.S. households have multiple Google Home units. The company owns around 69 percent of the U.S. smart speaker market.
Because of this installed base of Amazon smart speakers and security cameras, Amazon Sidewalk is immediately available for use with compatible devices – there's no need to wait for the roll-out of additional infrastructure to support the new technology. The company has published a coverage map that shows the technology already extends to over 90 percent of the U.S. population.
The gateways to the network
Echo and Ring products act as "Sidewalk Bridges" to form the basis of Amazon Sidewalk networks. The devices share a small portion of their Internet bandwidth to operate as gateways – allowing any Amazon Sidewalk product—for example, a pet tracker, a seniors wearable or a utility meter—to communicate with AWS to reveal information such as location.
Sidewalk Bridges also support applications such as smart outdoor lighting, environmental sensors, asset trackers, and domestic appliances such as washing machines—that are often kept in basements or garages—as well as healthcare and commercial devices.
You don't even have to own an Amazon smart speaker or security camera to take advantage of Amazon Sidewalk. Compatible devices can leverage the gateway services of neighbors' Sidewalk Bridges (if they have opted-in to the network) to connect with AWS.
Nordic support for both versions of Amazon Sidewalk
Nordic has officially completed "Works With Amazon Sidewalk" qualification for the nRF52840 Bluetooth LE SoC. In addition to leveraging Bluetooth LE to allow Amazon Sidewalk end devices to effortlessly access the cloud, the nRF52840's smartphone-interoperable connectivity allows consumers to use their mobiles for simple authentication of new devices onto the Amazon Sidewalk network.
The longer range Amazon Sidewalk variant will use the Nordic SoC's processor to supervise operation of the sub-GHz Semtech SX1262 LoRa and FSK transceiver. Nordic also has Works With Amazon Sidewalk qualification for the nRF52840 and Semtech SX1262 combination.
The use of the Semtech transceiver enables two further operational modes for the Amazon technology: Amazon Sidewalk over LoRa (LoRa is a type of LPWAN) and Amazon Sidewalk over FSK (using frequency shift keying modulation and offering higher throughput than LoRa but with shorter range).
Development made simple
The nRF52840 uses Nordic's nRF Connect SDK for Amazon Sidewalk software development. The scalable, unified software development kit can be used by developers to immediately get started on Amazon Sidewalk projects. Future versions of the SDK will integrate the latest version of the Amazon Sidewalk software repository.
Amazon Sidewalk applications can be evaluated using the nRF52840 DK. This is a versatile single board development kit for Bluetooth LE, Bluetooth mesh, and other low power 2.4 GHz protocol development on the nRF52840 SoC.
Complementary technology
Amazon Sidewalk is designed to complement other wireless technologies. For example, Amazon is a key supporter of Matter, which will sit alongside Amazon Sidewalk in the company's Echo smart speakers.
Where Amazon Sidewalk will really come into its own is beyond the home. An errant pet's Bluetooth LE tracker, for example, will connect to AWS using the local community's Sidewalk Bridges ensuring the dog's owner knows exactly where it has wandered. There are currently few other free-to-connect wireless technologies that can do that.