Bluetooth LE and cellular IoT wearables help us take care of our pets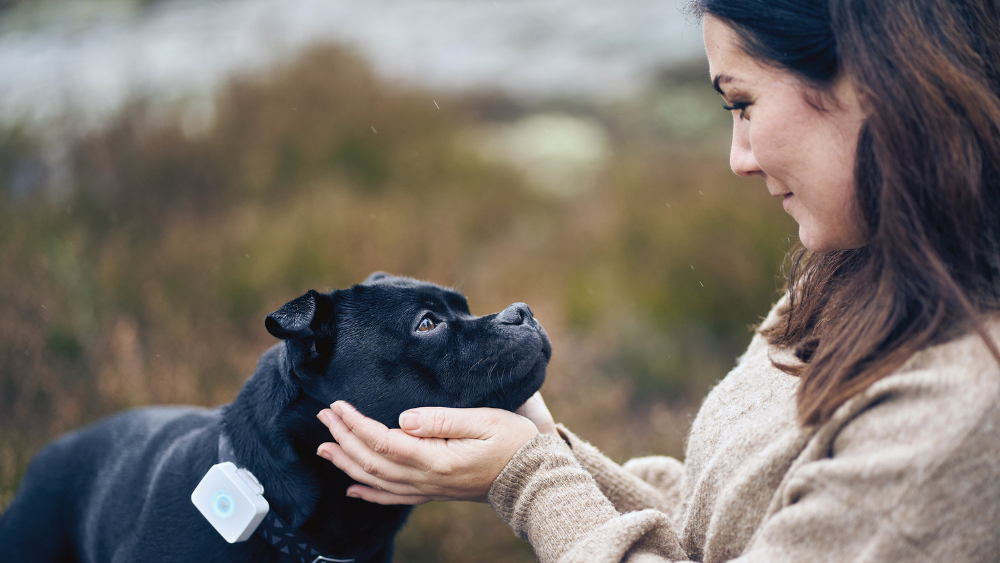 Since the 1970s, the role of pets in the family has changed. Back then, pets were pets, but now sociologists have found that more than eighty percent of dog owners consider their dog a fully-fledged family member, while more than seventy percent of cat owners feel the same (according to Phys Org).
That means we want to keep our pets safe, healthy, and happy more than ever. But it's not easy; for example, according to Australian pet supply chain PetBarn, the average adult dog requires between 30 and 60 minutes of exercise daily, with higher-energy and working breeds needing even more. With people living increasingly busy lives, ensuring a pet receives the correct amount of exercise and stimulation can be hard.
Lost pets are a problem too. Wandering off is easy for a curious animal, locating an errant hound is much more difficult. According to the American Humane Association, almost 10 million dogs and cats go missing each year in the U.S. alone.
Communication through technology
While humans can tell each other what they need, it's not quite so simple for a cat or a dog armed only with a meow or a bark. To better help owners understand their pets' needs, technology is coming to the rescue. The wearables that have been used to keep tabs on human health and fitness are now being adapted for animals.
But it's not just fitness products finding a new market through pets. In recent years, several products have been launched with the purpose of providing emergency notifications and tracking for both children and people with Alzheimer's, dementia, or autism. Such location tech is now being turned to help find lost pets.
The new applications are powering a booming smart pet device market. Market insights company GMI has found that this segment was valued at $5 billion in 2022 and has an expected CAGR of 15 percent between 2023 and 2032.
Sales are largely made up of smart cameras (allowing owners to keep an eye on their pets during the day while at work), some including microphones so owners can speak to their pet, and others even providing a remotely triggered treat. The other growing sector is smart collars; these are ideal for monitoring a four-legged friend's health and fitness habits and locating them if they are ever lost.
Keeping tabs with Bluetooth LE
Pet wearables startup Huan's Huan Tag can be attached to a dog or cat's collar and paired with the owner's smartphone via Nordic Bluetooth LE connectivity. This lets users view their pet's whereabouts via the 'Huan' app.
Suppose a pet was to wander outside of Bluetooth range. In that case, the company has created 'Huan Sensors' that can be placed in outdoor locations or vehicles to create a wireless network using additional Nordic SoCs. If a pet wearing a Huan Tag is within range of any of these SoCs, its collar triggers a Bluetooth LE to Wi-Fi or LTE-M gateway to notify the owner of the pet's location via the smartphone app.
Widespread coverage with cellular IoT
Another option for when a domestic animal strays outside of Bluetooth range is cellular IoT. Using the established cellular network, cellular IoT tracking solutions enjoy widespread metropolitan coverage, ensuring that Fido can be located even if he heads off on an ambitious journey.
An example of a cellular IoT tracking product is Smart Tracking Technologies' Link device, which is designed to attach to a pet's collar. It uses the LTE-M connectivity of Nordic's cellular IoT SiP to allow the user to track their pet via the cellular network.
The device can also measure the animal's activity via an included inertial measurement unit (IMU), and will enter 'idle' mode when the pet is sleeping to reduce power consumption. Activity information can also be sent to the user's smartphone via Nordic Bluetooth LE connectivity.
Applying Machine Learning
The Lilbit pet tracker also uses the cellular IoT connectivity and the GNSS capabilities of Nordic's SiP to send the pet's location to its owner. Again, this provides a precise locationing when the animal is not within Bluetooth range.
The tracker can be paired to the owner's smartphone using Nordic Bluetooth LE connectivity, sending movement metrics from the product's accelerometer, magnetometer, and gyroscope to the corresponding app. Using proprietary machine learning (ML) algorithms powered by the Arm M33 processor in Nordic's SiP, Lilbit can identify behaviors and potential health issues using the movement data.
Extendable range
Another option for providing coverage over a more extended range is the introduction of Amazon Sidewalk. This low-throughput wireless infrastructure combines Bluetooth LE and sub-GHz radio technologies to extend the transmission range of suitably equipped pet trackers by up to a kilometer, using a new protocol in the 900 MHz band. The technology can alert the owner if the pet leaves the property boundary.
Wireless tech is not only directly benefiting cats and dogs, but also providing peace of mind for loving owners by confirming that their furry companions are safe and happy. Moreover, thanks to the data provided by pet wearables, we are learning much more about the formerly secret lives of pets – enabling us to use the information to make these important family members even more content.