Remote ID promotes drone flight safety and compliance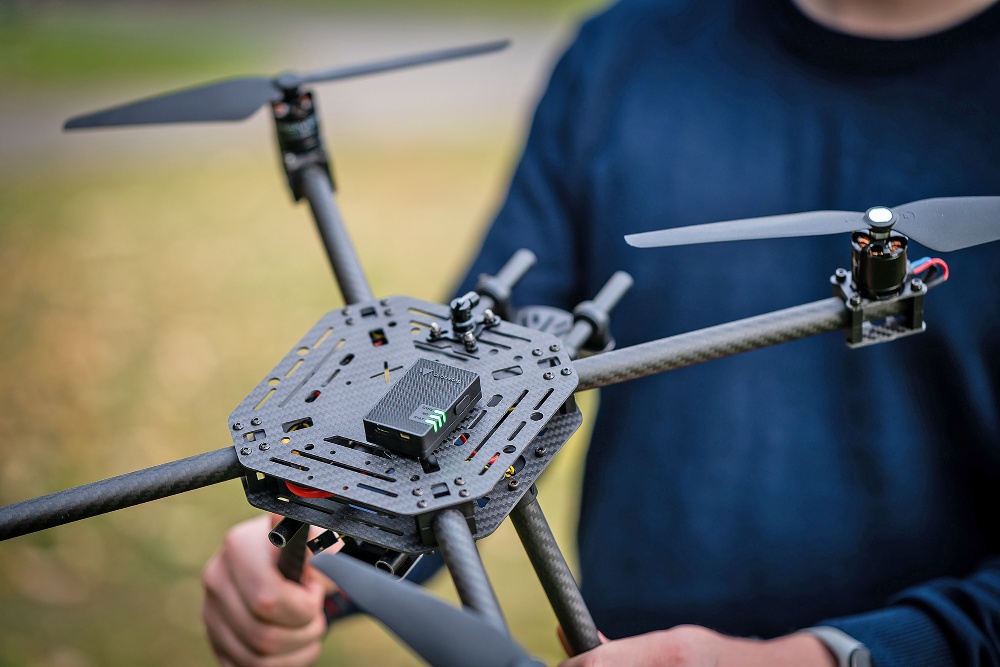 Beyond leisure, drones offer enormous potential for developing a wide array of innovative applications that benefit society.
But the many upsides of drones—officially known as unmanned aerial vehicles (UAVs)—come with certain caveats. Valid concerns exist around safety, security, privacy, and environmental protection. When millions of UAVs are eventually buzzing about all over the globe, how will the airspace be controlled?
Airspace authorities are committed to creating regulatory frameworks for evolving drone ecosystems to address these concerns. Crucially, wireless technology like drone tracking platforms can support implementing and adhering to these important regulations.
A sector flying high
Once the exclusive domain of military operations, drones were launched into the public and commercial spheres around 15 years ago. These days the drone industry is flying higher than ever. In Europe alone, this rapidly developing sector of aviation is expected to create over 100,000 jobs and produce more than €10 billion per year (mainly in services) by 2035, according to figures from an outlook study by the Single European Sky ATM Research 3 Joint Undertaking (SESAR JU, an institutionalized European public-private partnership established in 2021).
Drones in action
Government agencies and commercial organizations already use modern drones for applications, including emergency response, border and security surveillance, industrial site and pipeline inspections, crop monitoring, infrastructure monitoring, small item deliveries, mapping, and more.
One day advanced drone technology could contribute to revolutionizing urban mobility and logistics – think all-electric air taxis and passenger drones summoned through a smartphone app.
Read more:
Building better asset trackers for monitoring fragile shipments
Controlling the airspace
But as the number of drones in the air escalates, concerns continue to rise over future coordination and the safe integration of remotely piloted drones into specific airspaces. As such, flight approval for drone operation demands compliance with local regulations.
For instance, the U-Space Regulation (EU) 2021/664 (Europe's program to integrate drones into the airspace), adopted by the European Commission, which comes into effect from January 2023, stipulates that all airspace participants must be able to identify their drones and the operators remotely. The air traffic management system should enable the safer operation of large fleets of drones at low altitude, especially in urban areas.
Overcoming compliance challenges
At the same time, however, these regulations and their restrictions could present a compliance challenge for operators of existing UAVs. Without the correct setup, operators could find themselves frozen out of airspaces. This, in turn, could see the deployment of drones stall in a designated region – a far from ideal result for a technology area offering such wide-ranging value across industries.
Fortunately, IoT innovation is helping to fast track the flight path to meeting compliance with new regulations and more effective drone monitoring.
Remote ID device for UAVs
One example is a compact and lightweight remote ID device for UAVs. The Nordic cellular IoT SiP and Bluetooth LE SoC powered Dronetag Mini ensures a drone is detectable to all air traffic participants. Developed by Czech startup Dronetag—a company that works in conjunction with the European Space Agency (ESA)—Dronetag Mini is designed to promote flight safety and compliance with the new European remote ID regulations.
Read more:
How to Track Your Missing Assets
Developed through the ASPIRE WITH ESA program, the drone tracking device brings any drone from any manufacturer into line with the new regulations. Dronetag Mini enables: local and network remote identification in compliance with the EU regulations; flight planning, tracking and analysis in real-time, and drone fleet management and coordination. The system will be required for all flights from June 2022 (as per EU 2019/947).
As well as simplifying compliance, the platform will help enable various applications like delivery services requiring multiple concurrent trips or drone shows and drone fleets where multiple drones share the same airspace simultaneously, according to Lukáš Brchl, CEO of Dronetag.
Powered by multimode connectivity
In flight, Dronetag Mini employs GNSS signals to determine the exact position of the drone and relays that data to the Dronetag web app via the cloud using the drone's integrated Nordic nRF9160 SiP's cellular connectivity. This ensures the drone and its flight plan are visible both to airspace authorities and other pilots and enables the user to track the drone in near real-time.
Alternatively, the data can be transmitted to the Dronetag app on a user's smartphone using Bluetooth 5 Long Range connectivity provided by Nordic's nRF52833 SoC.
Nordic's cellular IoT and short-range Bluetooth LE wireless connectivity solutions complement each other to meet the platform's requirements for both Network Remote ID and Direct Remote ID, which guarantees compliance with the EU regulations, adds Brchl.
The sky appears to be the limit for 'futuristic' drone use cases guided by safe airspace coordination.
Read more:
Bluetooth 5 for Remote Controlled Toys